Disney's Saratoga Springs
Resale Listings
Photo Gallery
Resort Information
Resort Overview
Resort Map
Floor Plans
Point Charts
STATUS
Available
New
Reduced
Pending/Sold
| Resorts | Pts | Available Points | Use Year | Price / Point | Price | Status | See Details |
| --- | --- | --- | --- | --- | --- | --- | --- |
| Saratoga Springs | 50 | 50 points for 2023 and beyond. | Sep | 145 | $7,250 | Available | |
| Saratoga Springs | 50 | 4 points banked from 2023, 27 points borrowed from 2024 into 2023, 5 points for 2024, 50 points for 2025 and beyond | Mar | 118 | $5,900 | Low But Firm | |
| Saratoga Springs | 100 | 100 points beginning 2025 and beyond | Feb | --- | $9,800 | Sale Pending | |
| Saratoga Springs | 100 | 81 points available for 2024, 100 points for 2025 and beyond. Can close 2/26/24 | Dec | --- | $10,900 | Sale Pending | |
| Saratoga Springs | 125 | 88 points banked from 2022, 125 points for 2023 and beyond | Jun | 115 | $14,375 | New | |
| Saratoga Springs | 130 | 130 points for 2024 and beyond | Dec | 105 | $13,650 | Available | |
| Saratoga Springs | 140 | 106 points banked from 2022, 140 points for 2023 and beyond | Dec | 112 | $15,680 | Available | |
| Saratoga Springs | 150 | 150 points banked from 2022, 150 points for 2023 and beyond | Dec | --- | $17,250 | Sale Pending | |
| Saratoga Springs | 160 | 160 available for 2024 and beyond. Can close 12/16/23 | Aug | --- | $16,800 | Sale Pending | |
| Saratoga Springs | 160 | 182 available for 2024, 160 for 2025 and beyond. Can close Dec 29, 2023 | Feb | 108 | $17,280 | Available | |
| Saratoga Springs | 170 | 163 points for 2024, 170 points for 2025 and beyond, CAN CLOSE 2/22/24 | Oct | 109 | $18,530 | Available | |
| Saratoga Springs | 170 | 132 points for 2023, 170 points for 2024 and beyond, Low But Firm | Oct | 109 | $18,530 | Low But Firm | |
| Saratoga Springs | 175 | 83 points for 2024, 175 points for 2025 and beyond, low but firm | Feb | 95 | $16,625 | Low But Firm | |
| Saratoga Springs | 185 | 20 available for 2024 and 185 for 2025 and beyond. Can close 2/11/24 | Aug | 99 | $18,315 | Available | |
| Saratoga Springs | 200 | 155 points banked for 2023, 200 points available for 2024 and beyond | Feb | 108 | $21,600 | Price Reduced | |
| Saratoga Springs | 200 | 200 available for 2025 and beyond. Can close 4/30/24. Low but Firm, priced to sell. | Aug | 99 | $19,800 | New | |
| Saratoga Springs | 200 | 200 available for 2025 and beyond. Can close 3/8/24/24. | Mar | 109 | $21,800 | New | |
| Saratoga Springs | 200 | 162 points for 2023, 200 points for 2024 and beyond, Low But Firmm CAN CLOSE 5/4/24 | Oct | 105 | $21,000 | Low But Firm | |
| Saratoga Springs | 200 | 200 available for 2025 and beyond. | Mar | 99 | $19,800 | Available | |
| Saratoga Springs | 220 | 220 available for 2025 and beyond. Can close 2/26/24 | Aug | 101 | $22,220 | Available | |
| Saratoga Springs | 225 | 225 available for 2024 and beyond. Can close 1/28/24 | Aug | 107 | $24,075 | Available | |
| Saratoga Springs | 230 | 200 available for 2025 and beyond. Can close 4/30/24. Low but firm, priced to sell. | Mar | 99 | $22,770 | Low But Firm | |
| Saratoga Springs | 250 | 76 points for 2024, 250 points for 2025 and beyond, Low But Firm | Mar | 99 | $24,750 | Low But Firm | |
| Saratoga Springs | 250 | 250 available for 2024 and beyond. Can close 1/24/24 | Aug | 106 | $26,500 | Available | |
| Saratoga Springs | 250 | 192 available for 2024, 250 for 2025 and beyond. Can close 1/20/24. | Oct | --- | $24,750 | Sale Pending | |
| Saratoga Springs | 250 | 250 available for 2024 and beyond. | Aug | --- | $26,000 | Sale Pending | |
| Saratoga Springs | 250 | 250 available for 2024 and beyond. Can close 12/23/23 | Oct | 105 | $26,250 | Available | |
| Saratoga Springs | 253 | 253 available for 2025 and beyond. | Feb | --- | $25,047 | Sale Pending | |
| Saratoga Springs | 300 | 96 available for 2024, 300 for 2025 and beyond. Can close 6/2/24. Low but Firm, priced to sell. | Dec | 95 | $28,500 | New | |
| Saratoga Springs | 300 | 300 available for 2024 and beyond. Can close 11/22/23 | Dec | --- | $30,900 | Sale Pending | |
| Saratoga Springs | 390 | 390 available for 2025 and beyond. Can close 4/5/24 | Aug | --- | $34,320 | Sale Pending | |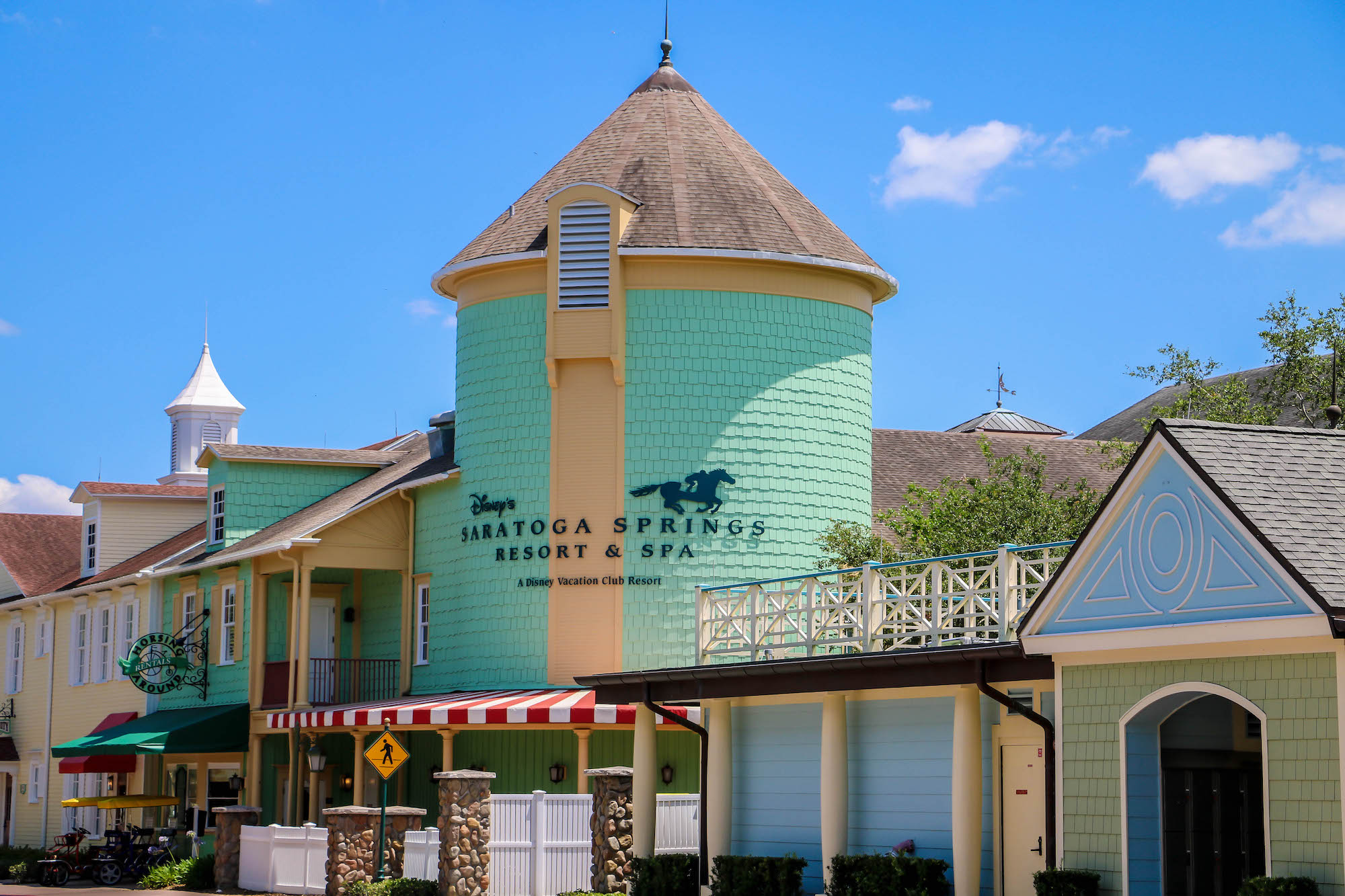 Maintenance Cost
$8.14 per point
Public Offering Statement
5 Star Resort
1960 Broadway Lake Buena Vista, Florida
Reminiscent of New York's quaint, horse racing town of Saratoga Springs, this DVC Resort is the perfect place to sit back, relax and shop! Located just across the lake from Disney Springs, Saratoga Springs attracts guests who are looking to shop, dine and party the night away just across the lake. Opened in phases from 2004-2007, this 65-acre resort offers is the largest DVC Resort and several unique features like the Treehouse Villas, where families can literally sleep in a treehouse on their vacation. This massive 800+ villa resort is spread over 18 buildings in addition to the 60 free standing Treehouse Villas.
A Bit of History
This resort also has a rich and unique history. Originally the site of a residential community with a nearby shopping area called Lake Buena Vista Village (sound familiar?) built in the 1970s, the resort has gone through several transformations before becoming the Saratoga Springs that we know and love today.
After the planned residential community idea was scrapped by Disney executives, the area was turned into a resort in the 1980s. The Lake Buena Vista Village shopping area was changed to focus on Walt Disney World visitors and eventually would become Disney Springs.
In the 1990s the resort was once again changed, this time into the Disney Institute Resort, which was intended to be an interactive, educational vacation experience for Disney World visitors. After years of lackluster attendance to the Disney Institute, the resort was finally converted to the 7th Disney Vacation Club Resort and renamed Saratoga Springs.
Although the DVC resort officially opened in 2004, some of the buildings, including the 60 Treehouse Villages were actually built in the 1970s.
Accommodations
Saratoga Springs was in the midst of a 2-year refurbishment plan when the resort closed due to the coronavirus. Room renovations began in June 2019 and were expected to be completed in 2021. It is not clear when renovations will be completed but as of October 2020 two buildings have completed renovation.  The renovated rooms were beautifully updated with all new furniture, paint, cabinetry and countertops.
Newly Renovated One Bedroom Villa at Saratoga Springs Resort & Spa
Room Types
Deluxe Studios
One Bedroom Villas
Two Bedroom Villas
Two Bedroom Lock-off
Treehouse Villas
Three Bedroom Villas
Standard vs. Preferred Rooms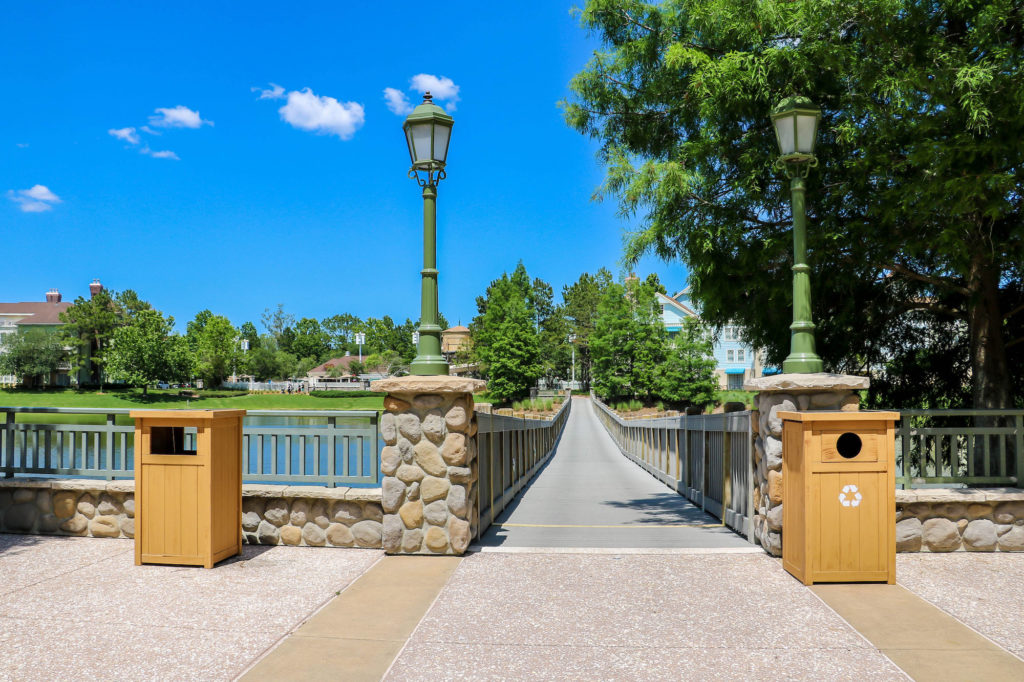 All Saratoga Springs rooms are available in either Standard or Preferred options, except for the Treehouse Villas. The difference between Standard and Preferred rooms is their location.
Standard Rooms are located in The Grandstand, The Carousel and The Paddock buildings.
Preferred Rooms are located in The Springs and Congress Park and are closer to the resort's main lobby, boat launch, pedestrian bridge to Disney Springs and other transportation options.
If you're looking for convenience during your stay, the Preferred Rooms will save you time when heading in and out of the resort.
Views
Disney's website is a bit confusing because Preferred Rooms are sometimes listed as Preferred/Water Views. In actuality, you cannot choose your room's view when booking. Standard and Preferred only indicate your location at the resort, not the view you will have from your room.
Resort Dining
In addition to the multitude of restaurants available just across the lake at Disney Springs, Saratoga Springs is home to several great dining options right on property.
This racetrack themed table-service restaurant serves classic American cuisine daily for dinner only. Steak, seafood, pastas and more, there is plenty to choose from for the whole family.
Head to the Turf's bar for a few fun, old world cocktails like Mint Juleps and Blue Jockeys in a relaxed Turf Club Lounge. Sit back, munch on a few light snacks and enjoy the vistas of Disney's Lake Buena Vista Golf Course.
This quick service cafe serves breakfast, lunch and dinner daily and consists mainly of sandwiches, wraps and flatbreads. Although the menu looks fairly standard, selections here are quite interesting. Expect cheeseburger pizza, lobster sandwiches and robust salads full of fruit, nuts and cheese.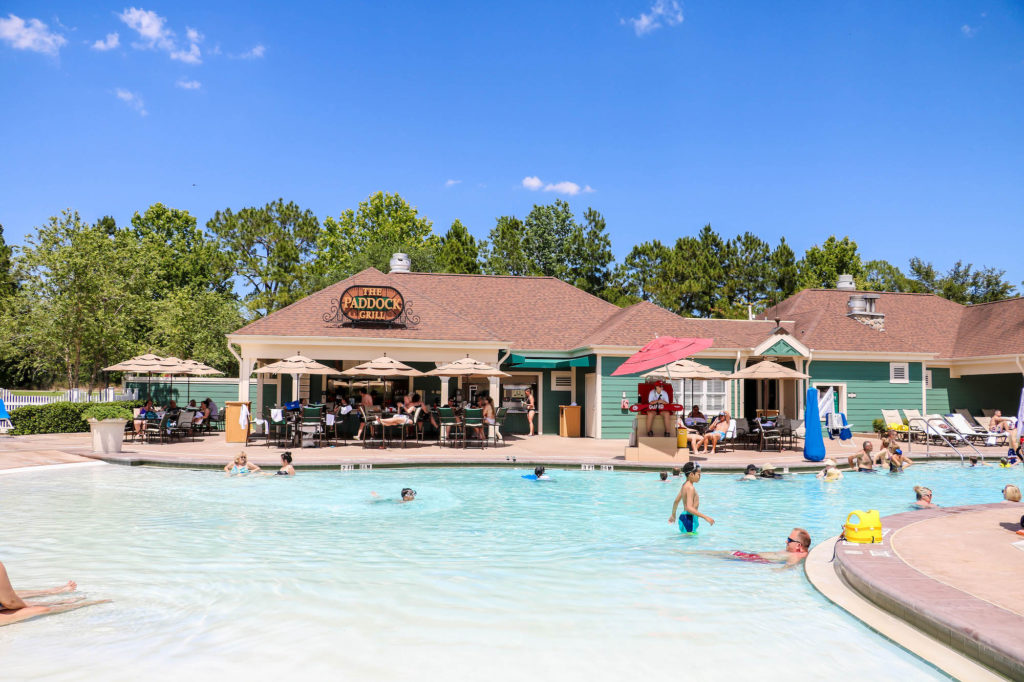 Located poolside, the Paddock Grill also serves up three meals a day to fill the stomachs of the hungriest of pool goers. Fish tacos, burgers and sandwiches fill the menu for delicious, quick options.
Another poolside dining option at Saratoga Springs, Backstretch offers a few sandwiches, snacks and the perfect tropical frozen drinks to quench your thirst during a hot day poolside.
Located at the High Rock Spring Pool, On the Rocks serves cocktails, beer, wine and smoothies. No food is available at this location but guests can easily pop over to the nearby Artist's Palette for breakfast, lunch, dinner and light snacks.
Amenities
Pools
Pools, pools and more pools! Since Saratoga Springs is such a large resort there are a total of 5 pools where guests can lounge in the Florida sun.
Paddock Pool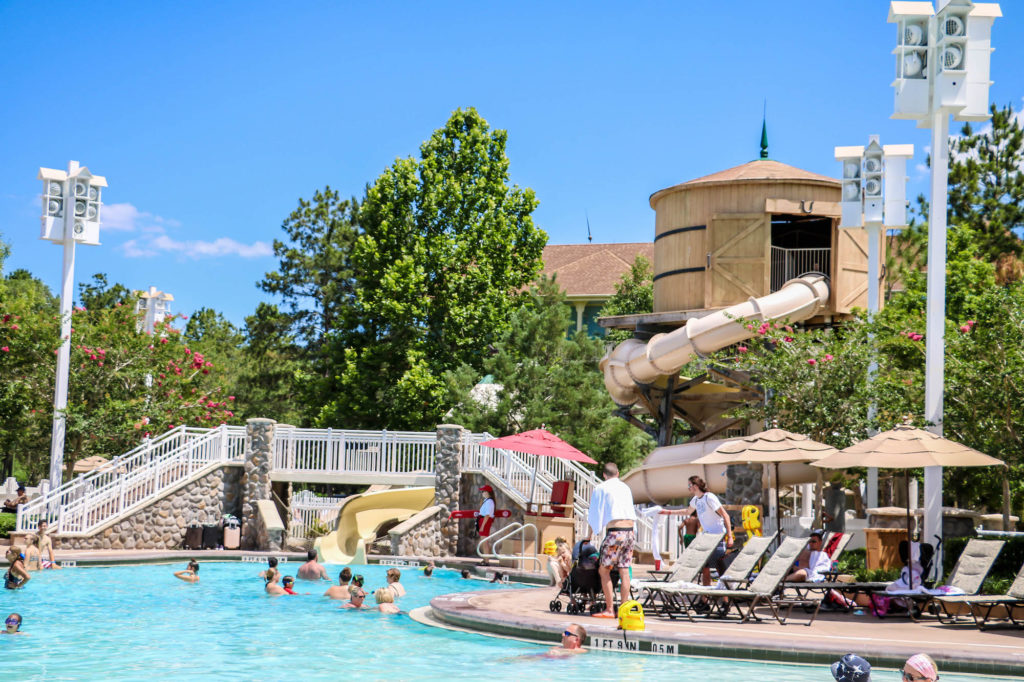 One of the two feature pools on property, the Paddock Pool features a 146-foot slide that starts from a water tower and zips you down to the zero-entry pool below. Along with the main pool, you'll find a horseshoe shaped whirlpool and two kiddie pools.
High Rock Spring Pool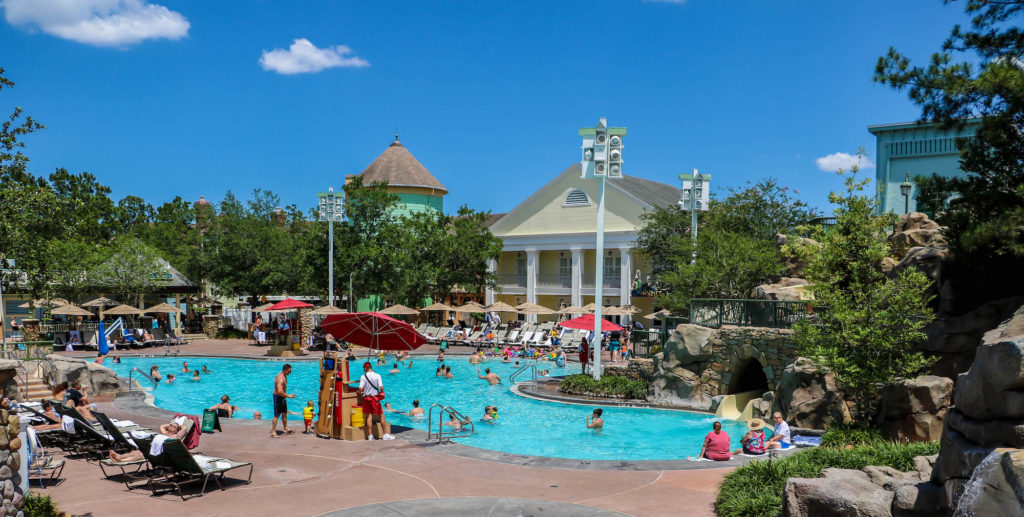 Located near The Springs area, the second feature pool is another zero-entry pool with waterfalls and a 128-foot slide built into the rocks. Kids will enjoy the Donald Duck splash area and the miniature pool slide.
Leisure Pools
Three quieter leisure pools are available in conveniently placed locations around the resort. Leisure pools are located at the Treehouse Villas, Congress Park and Grandstand, making it easy for all guests to find a place to cool down in the warm Florida weather.
Other Amenities
Senses Spa
A full-service day spa and health club, Senses offers a wide range of spa services as well as a 24-hour fitness center for guests staying at Saratoga Springs as well as day guests at the resort. Services offered include:

Massage treatments
Facial treatments
Body treatments
Bath and soak treatments
Hand and foot treatments
Lake Buena Vista Golf Course
Located adjacent to Saratoga Springs is this beautiful 18-hole golf course that is sure to entertain avid golfers and novices alike.
Tennis
Two clay courts are available daily for guests to play a few rounds of tennis. Equipment rentals are available at Horsing Around Rentals.
Basketball Court
Play a little basketball with friends at the court located in the Sports Court area of the resort. Ball rentals available at Horsing Around Rentals.
Shuffleboard
A true vacationers game, play a game or two with friends on a relaxing afternoon.
Horsing Around Rentals
Bikes, sports equipment for various onsite sports
Sunrise Yoga
Set the mood for your day with a relaxing morning yoga lesson overlooking Disney Springs.
Fishing Excursions
Reel in a big one on a bass fishing excursion where you'll spend a few hours gliding through the calm waters around the resort.
Pool Table
Grab a drink and challenge friends to a game of pool at The Turf Club Lounge.
Playgrounds
The kids can go wild at the water playground and two dry playgrounds at Saratoga Springs.
Win Place or Show Arcade
Not just for kids, play a few rounds of your favorite games at Win Place or Show.
Jogging Trails
Jog along the various scenic trails at the resort to get your daily workout in.
Community Hall
Have a family game night at Community Hall where guests can find video games, board games and more.
Pros
Home one of the few full-service spas located at Disney World.
Great location for golfers with golf course on property.
Convenient location for visiting Disney Springs.
Many building have been recently renovated. All buildings to be renovated by 2021.
Various sports available onsite.
Unique vacation experience with Treehouse Villas, the only location at Disney with this type of villa.
Cons
Sprawling resort with some building located far from Disney transportation options. This can mean long walks for some after already long days at the parks.
Buses are the only form of Disney transportation to and from parks.
Very subtle theming compared some other DVC resorts, which may not appeal to all guests.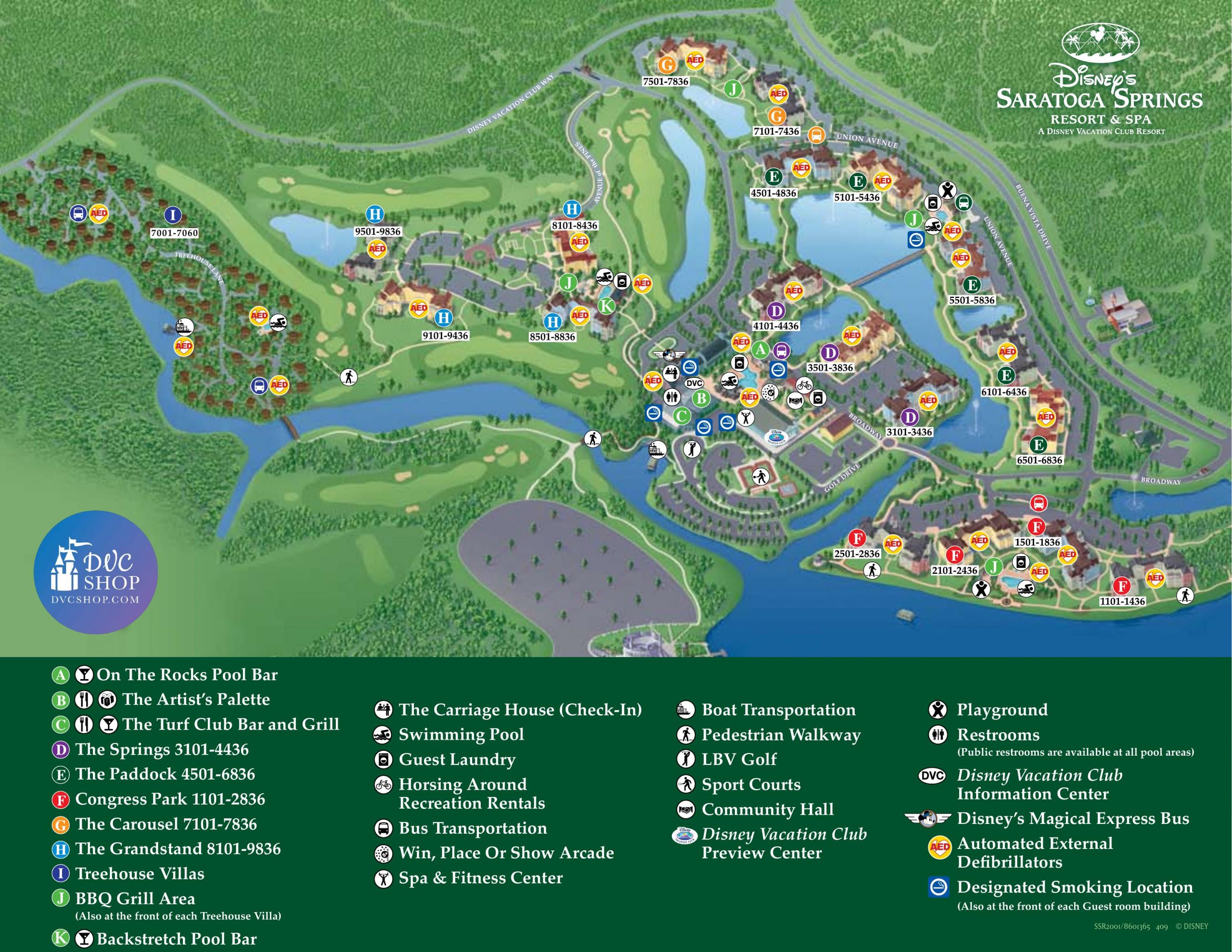 Click here to download map.