Resale Listings
Photo Gallery
Resort Information
Resort Overview
Resort Map
Floor Plans
Point Charts
STATUS
Available
New
Reduced
Pending/Sold
| Resorts | Pts | Available Points | Use Year | Price / Point | Price | Status | See Details |
| --- | --- | --- | --- | --- | --- | --- | --- |
| Hilton Head | 200 | 200 points for 2025 and beyond. Can close 12/29/23 | Feb | 65 | $13,000 | Available | |
| Hilton Head | 225 | 225 points for 2025 and beyond , CAN CLOSE 3/9/24 | Mar | 62 | $13,950 | New | |
| Hilton Head | 300 | 27 points for 2024, 300 points for 2025 and beyond. Can close 2/22/24 | Dec | --- | $18,600 | Sale Pending | |
Maintenance Cost
$11.31 per point
Public Offering Statement
5 Star Resort
22 Harbourside Lane Hilton Head Island, South Carolina
Taking a Disney Vacation doesn't always mean heading to the parks, out of Disney's 15 DVC Resorts, there are 3 unique resorts that are not located adjacent to the Disney theme parks. The oldest of the three is Disney's Hilton Head Island Resort. This picturesque, Lowcountry themed island resort is perfect for a family beach getaway on laid back Hilton Head Island in South Carolina.
Opened in 1996, Disney's Hilton Head Island Resort is actually one of the oldest DVC Resorts. The rustically themed mid-island resort offers a variety of activities for families, whether you're looking for an action-packed vacation or a laid-back, relaxed time. While the resort isn't actually located beachfront, a shuttle bus is available to transport guests to the Disney Beach House where guests can enjoy the beach and other beachfront amenities. Or guests can opt to take a 1.25 mile walk on the well-lit walkway from the resort to the beach.
Accommodations
Fitting with the Lowcountry feel, each building at the resort is uniquely themed as a part of a fishing village. Rooms are quite large and spacious with large balconies where you can sit on rocking chairs and enjoy the warm breeze from the surrounding marshland.
It is important to note that as the resort is located on marshland, many of the buildings are elevated and require the use of stairs to enter the rooms. Be sure to request an accessible room if necessary and resort staff will book you into a building that has an elevator.
Room Types
Deluxe Studios
One Bedroom Villas
Two Bedroom Villas
Three Bedroom Grand Villas
There are no distinct view types at Disney's Hilton Head Island Resort. All rooms will have views of either the Woodlands or Water.
Rooms are spread throughout different buildings at the resort, similar to the setup of Saratoga Springs. The main activities building is located adjacent to the pool and is where guests will find the Community Hall and Broad Creek Mercantile shop.
Resort Dining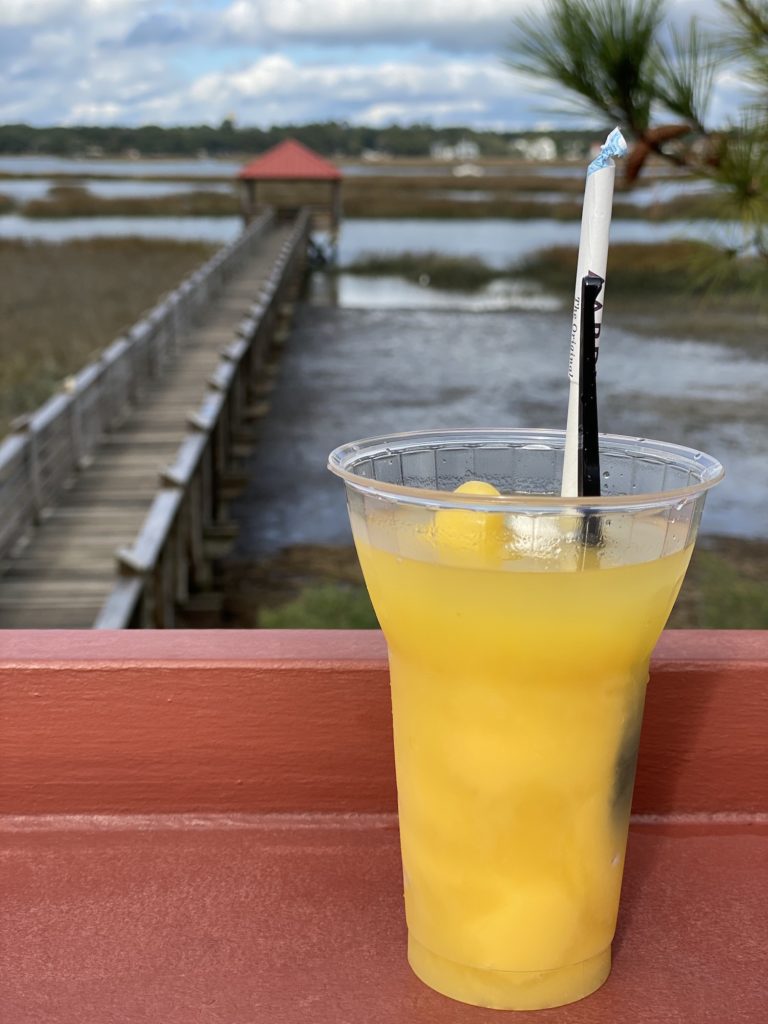 Disney's Hilton Head Island Resort actually only has two quick-service dining options. But, if you've ever been to Hilton Head you'll know that the island has a huge variety of delicious dining options. Adjacent to the resort and within walking distance there are several great dining options for dinner. At the resort you will find:
This quick-service option is open throughout the day and generally closes at 5PM. They offer a variety of burgers, sandwiches, wraps and salads that can either be eaten at the outdoor patio or taken to go. This is a great option for poolside dining.
Signals, the second quick-service option is located at the Beach House and offers sandwiches, salads, treats and beverages. Usually open until 3PM, Signals is great option for lunch and drinks while enjoying the beach. Note that Signals is closed in January and certain dates in February.
Amenities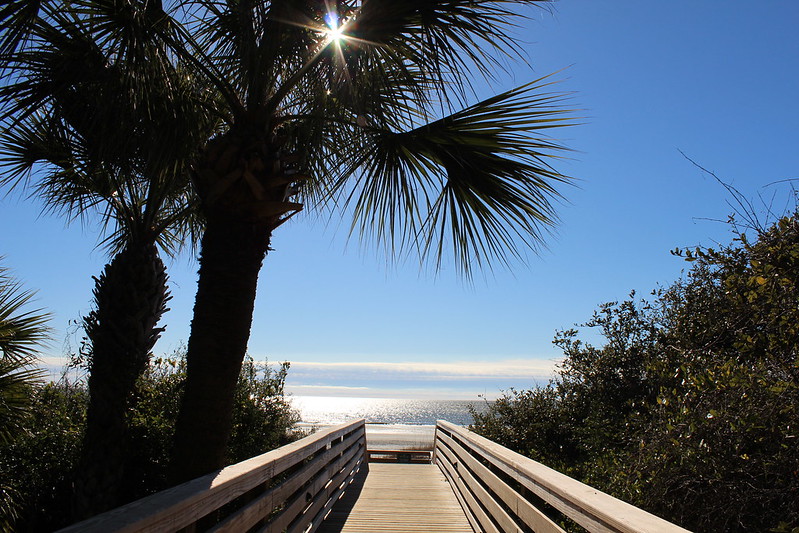 There is no shortage of activities available at Disney's Hilton Head Resort or on the island itself. Hilton Head is a playground for East Coast vacationers and fun activities abound.
Beach
Of course, the beach is the main attraction here at Hilton Head Island. Guests can walk or take a free shuttle to Disney's private Beach House for a day of fun in the sun.
Beach House
Aside from Signals, the Beach House also offers TVs to watch your favorite sports teams play and a video game arcade.
Broad Creek Mercantile Shop
Located adjacent to the pools, this general store sells daily essentials and is also where guests can sign-up for activities and rent DVDS.
Pools
Two pools are available at the main resort and are adjacent to one another. The Big Dipper is the main pool and offers a wraparound Water Tower slide and a whirlpool spa. The Little Dipper kid's pool offers a water fountain splash area for small children.
Beach House Pool
Another pool is located at the Beach House for those who would like to take a break from the beach. The Beach House pool doesn't have much of a theme but has plenty of lounge chairs and offers fun activities like pool volleyball.
Community Hall
Board games, craft activities, cards and more are available at the Community Hall for hours of fun.
Golf
Likely the second most popular activity on Hilton Head, after the beach of course, is golf! There are a total of 32 public golf courses available for guests to play.
Live Oak Lounge
Located at Big Murggie's Den, where guests check-in to the resort, is this comfortable lounge with pool table and fireplace for the family to hang back and relax in the evening.
Grills
Grills are located throughout the resort and are available on a first come, first serve basis.
Bend & Stretch Fitness Center
Stay in shape at this state-of-the-art workout room.
Campfires and Nature Activities
The resort periodically offers storytelling and sing-along fireside with s'mores. Other nature activities are held seasonally. Check with the Broad Creek Mercantile or the front desk for more information.
Biking, Shuffleboard, Table Tennis, Basketball
Rentals are available at the resort for a variety of outdoor activities.
Pros
Gorgeous resort with plenty of activities for the whole family.

Large rooms compared to other DVC Resorts.

Terrific location for enjoying all Hilton Head has to offer.

Rooms start at just 6 DVC points per night!
Cons
Not located beachfront, although shuttle service and walking path are available.

Limited dining options on property with no table-service option on property.

Having a car is recommended to explore the island. Bikes are available for rent.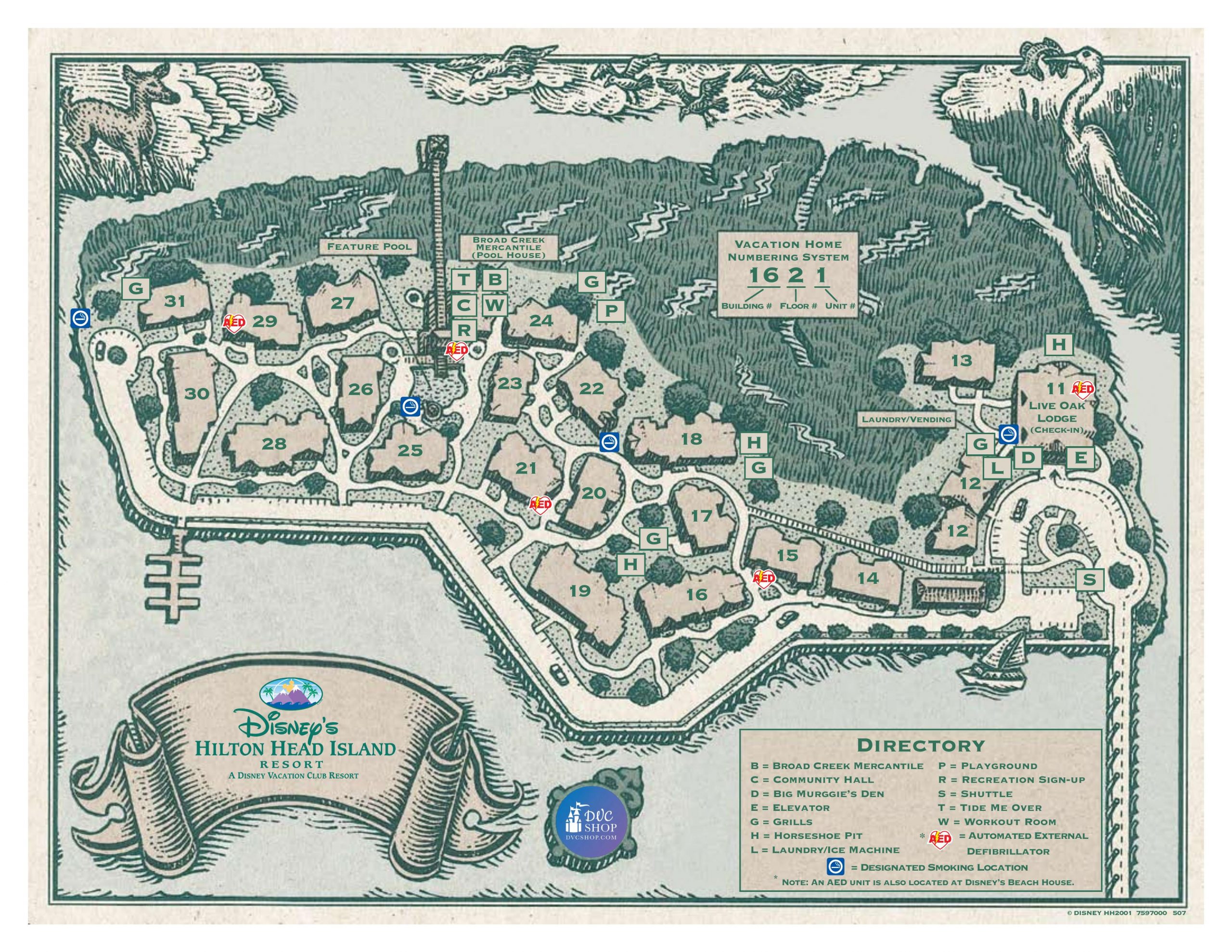 Click here to download map.