Resale Listings
Photo Gallery
Resort Information
Resort Overview
Resort Map
Floor Plans
Point Charts
STATUS
Available
New
Reduced
Pending/Sold
| Resorts | Pts | Available Points | Use Year | Price / Point | Price | Status | See Details |
| --- | --- | --- | --- | --- | --- | --- | --- |
| Copper Creek | 75 | 16 points banked from 2023, 75 points for 2024 and beyond, Low But Firm | Feb | --- | $10,425 | Sale Pending | |
| Copper Creek | 150 | 16 points for 2023, 150 points for 2024 and beyond, Low But Firm | Oct | --- | $18,750 | Sale Pending | |
| Copper Creek | 150 | 74 points for 2023, 150 points for 2024 and beyond | Dec | 140 | $21,000 | Available | |
| Copper Creek | 200 | 16 points for 2023, 200 points for 224 and beyond | Aug | 135 | $27,000 | Available | |
| Copper Creek | 200 | 155 points for 2023, 200 points for 2024 and beyond, Low But Firm | Oct | 141 | $28,200 | Low But Firm | |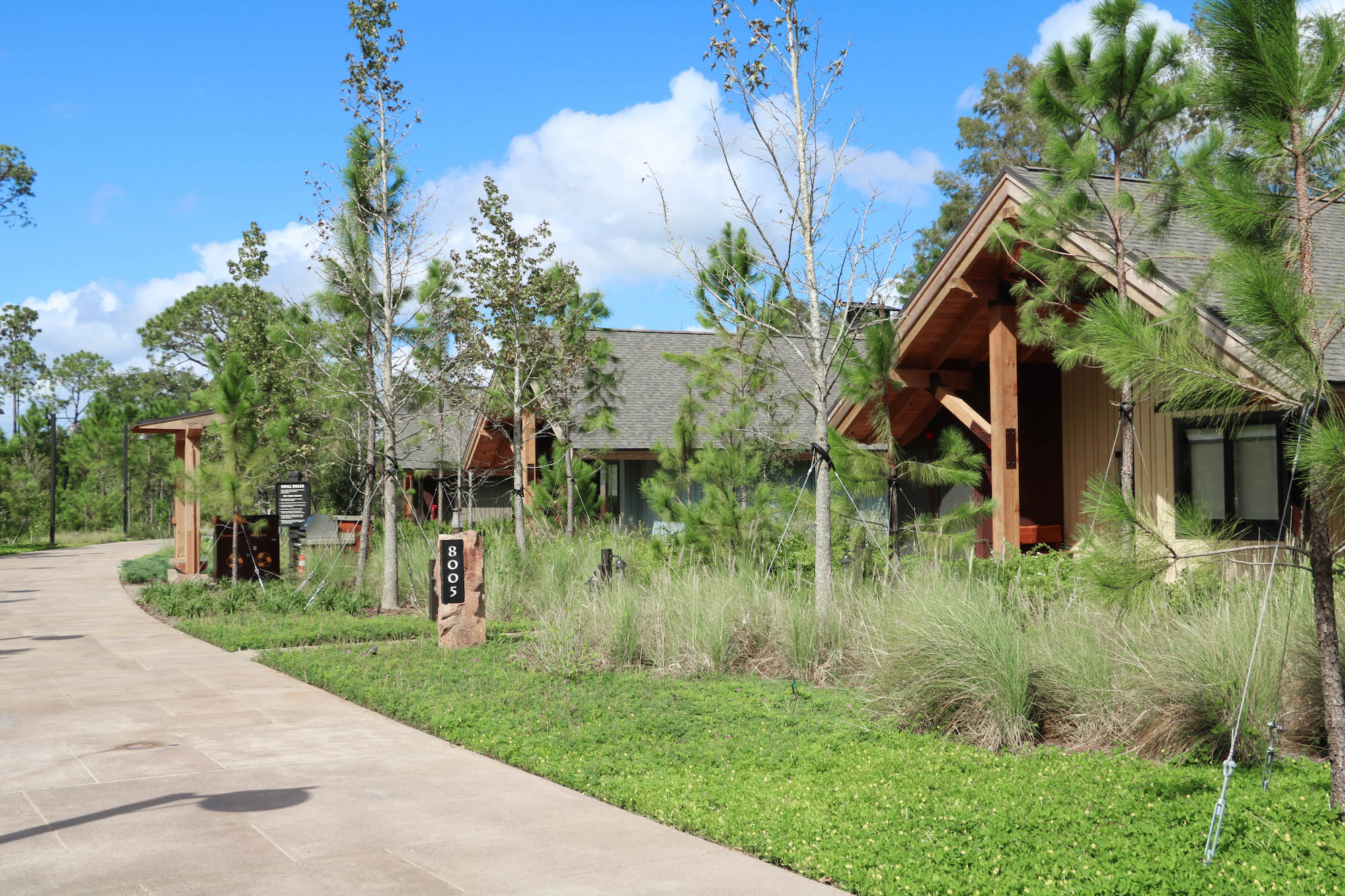 Maintenance Cost
$8.09 per point
Public Offering Statement
5 Star Resort
901 Timberline Dr. Blvd Lake Buena Vista, Florida
Located at Disney's Wilderness Lodge, Boulder Ridge Villas and Copper Creek Villas and Cabins can sometimes be a bit confusing to differentiate.
Boulder Ridge originally opened in 2000 as the Villas at Disney's Wilderness Lodge in a separate lodge building located at the southwest corner of Disney's main Wilderness Lodge building. In 2016 this building underwent renovations and was renamed Boulder Ridge Villas at Disney's Wilderness Lodge.
During the same time, a larger renovation and expansion of Wilderness Lodge was underway. This expansion added several amenities to the resort as well as a set of waterfront cabins known as Cascade Cabins. The Cascade Cabins along with 184 DVC villas inside the original Wilderness Lodge building are known as Copper Creek Villas and Cabins.
All guests at Boulder Ridge or Copper Creek are welcome to use the amenities located throughout the Wilderness Lodge Resort.
While we all know Disney does an amazing job theming its hotels and resorts, nowhere will you feel more transported to a far away land as you will here. Boulder Ridge and Copper Creek are two of the most unique DVC Resorts you'll find in the DVC family or any Disney Resort.
The theme at these resorts is the Pacific Northwest exploration, mining and railroad era of the 1800s. Rustic, woodsy, and calm, you'll feel thousands of miles away from the hustle and bustle of the rest of the Disney World Resort while staying here. If you're looking for peace, quiet and calm on your vacation, or part of your vacation, these resorts should be at the top of your list.
Accommodations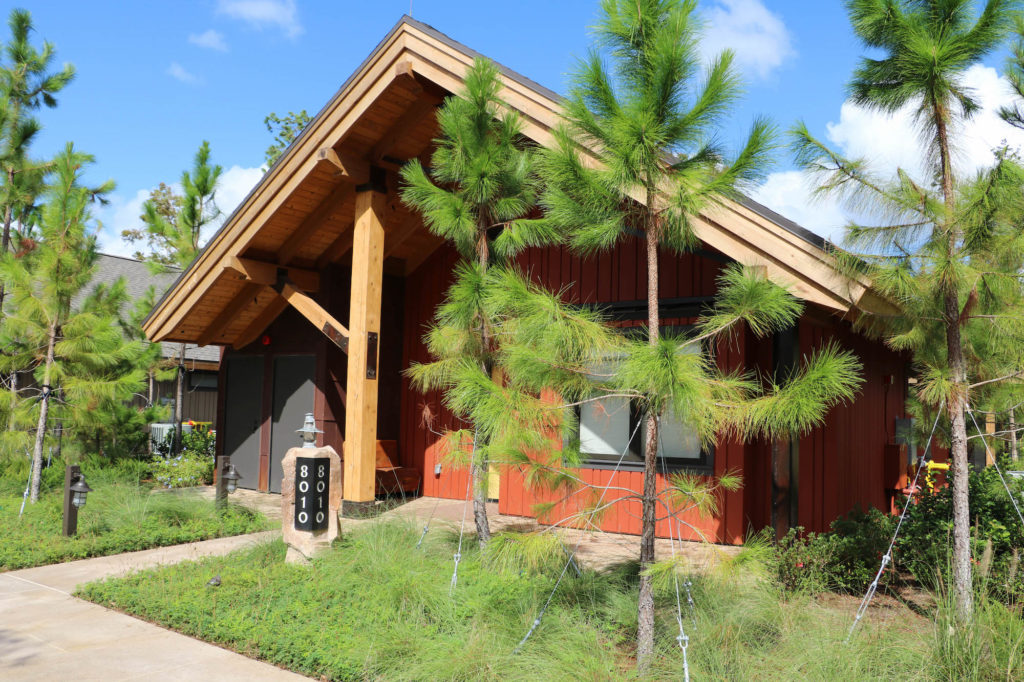 Room Types
Deluxe Studio
One Bedroom Villas
Two Bedroom Villas
Three Bedroom Villas (Copper Creek only)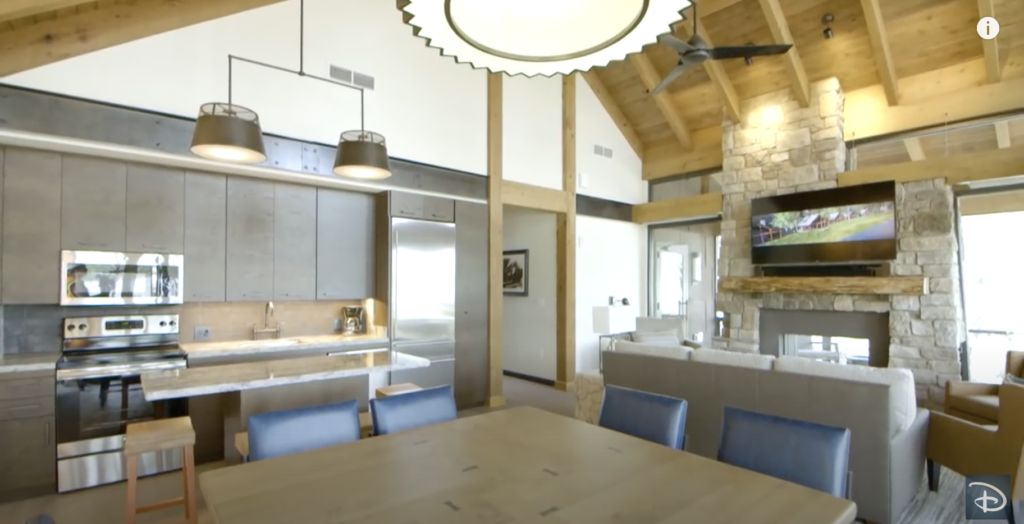 Cascade Waterfront Cabins (Copper Creek only)
While both resorts follow a similar theme, Copper Creek's Villas and Cabins tend to be a bit more modern in decor, while Boulder Ridge is more rustic. For those looking for large DVC villas, villas at Boulder Ridge are larger than those at Copper Creek.
Available Views
No distinct views are available when booking at either Copper Creek or Boulder Ridge. All Cascade Cabins have a view of Bay Lake while all other units either have a view of the interior resort grounds or the surrounding wilderness area.
Resort Dining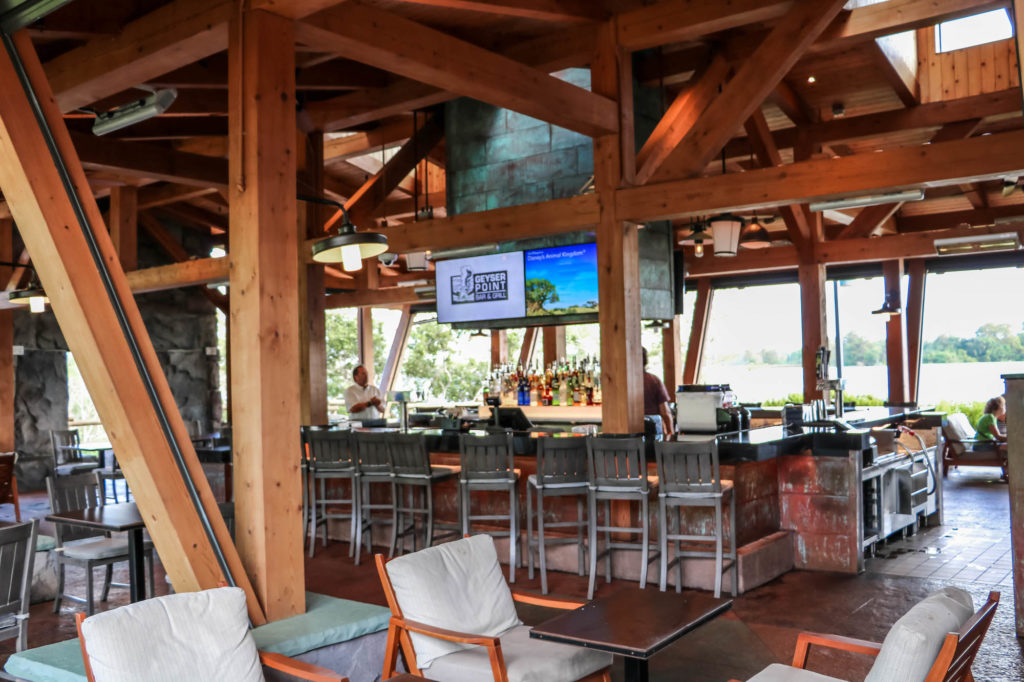 While there aren't a huge number of dining options at the Wilderness Lodge Resort area, you will find a variety of dining styles available.
This Snow White themed character dinner will delight the whole family with a hearty, rustic family-style feast where you'll be joined by Snow White and her Seven Dwarfs.
With a mix of family-style and table-service options, this restaurant serves breakfast, lunch and dinner daily to hungry guests. Endless skillets or individual entrees can be ordered throughout the day.
A quick service breakfast, lunch and dinner option serving sandwiches, burgers, salads and delicious fluffy cupcakes.
The newest dining option at the Wilderness Lodge Resort area, Geyser Point is an outdoor bar and grill serving lunch, dinner, and late night snacks daily. While your favorite "bar food" options are available here, some more interesting menu items are available as well, like the Grilled Portobello Salad with salmon and goat cheese dressing.
For evening drinks and snacks, stop by Territory Lounge after 5PM and enjoy pretzel bread and fondue with your favorite beer, glass of wine or non-alcoholic drink.
Amenities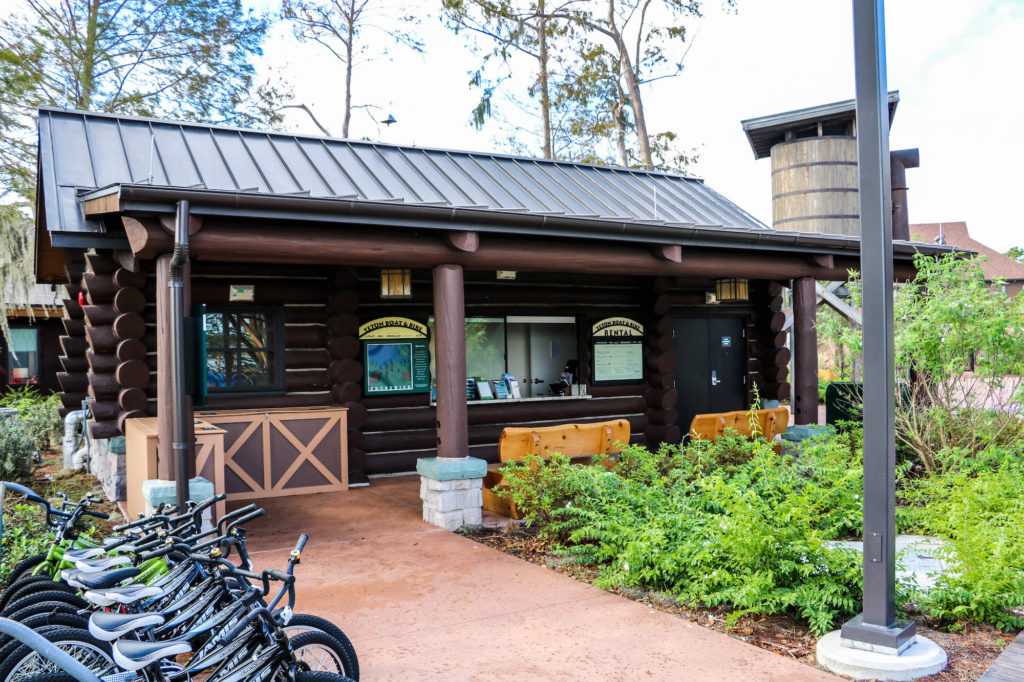 Pools
As a guest at either Copper Creek or Boulder Ridge, you'll have access to all of the amenities at Disney's Wilderness Lodge. There are two pools located on property.
Copper Creek Springs Pool
This heated pool is surrounded by lush trees and includes a 67 foot waterslide as well as hot and cold whirlpool spas. Located adjacent to the pool is Geyser Point Bar & Grill where guests can conveniently grab a drink, snacks or lunch.
Boulder Ridge Cove Pool
A smaller and quieter pool, Boulder Ridge Cove zero entry pool is perfect for the whole family to sit back, relax and soak in some rays. Shaded seating areas are free to use on a first come, first serve basis.
Other Amenities
Reunion Station 
A fun gathering spot for DVC members to participate in fun, creative activities.
Sturdy Branches Health Club
Stay fit during your stay a the fully equipped fitness center.
Bike Rentals
Hop on a bike at Teton Boat & Bike Rentals and spend the day zipping through the miles of wilderness trails on property.
Boat Rentals
Take a relaxing boat ride in a motorized or sailboat from Teton Boat & Bike Rentals.
Barbecue Pavilions
Finish your day with a barbecue for the whole family at four different areas which offer gas grills, tables and chairs.

Grilling Area

Cypress Courts
Gather your friends for a game of basketball or join a pickup game with other guests.
Fire Rock Geyser
Catch the Fire Rock Geyser blow its top once every hour.
Fishing
Join a fishing excursion and reel in a big one during your morning or afternoon on the open water.
Movies Under the Stars
Watch a complimentary Disney movie at the Boulder Ridge Cove Pool for a magical evening under the stars.
Electrical Water Pageant
Catch the beloved parade as it glides through the Seven Seas Lagoon each evening.
Jogging Trails
Take a relaxing jog along the trails surrounding Wilderness Lodge. Maps are available at the front desk.
Buttons & Bells Arcade
Stop in this fun arcade for a night of laughs with your family.
Wilderness Lodge Campfire
We all love s'mores, grab a stick and marshmallows and unwind after a long day at the parks.
Pros
Terrific for nature lovers. Surrounded by lush landscaping and miles of trails.
Extremely easy commute to the Magic Kingdom through the Red Line Boat located at the marina.
Recently expanded bringing tons of fun activities to the resort.
Gorgeous Cascade Cabins which are less costly than Polynesian's waterside bungalows.
If considering a DVC Resale purchase, Copper Creek DVC contracts expire in 2068, one of the longest expiration dates of any DVC Resort.
Cons
The rustic ambience may not be suited for all travelers, especially those hoping for a more traditional luxury vacation experience.
Only a handful of dining options on property.
Most resort transportation will be through buses.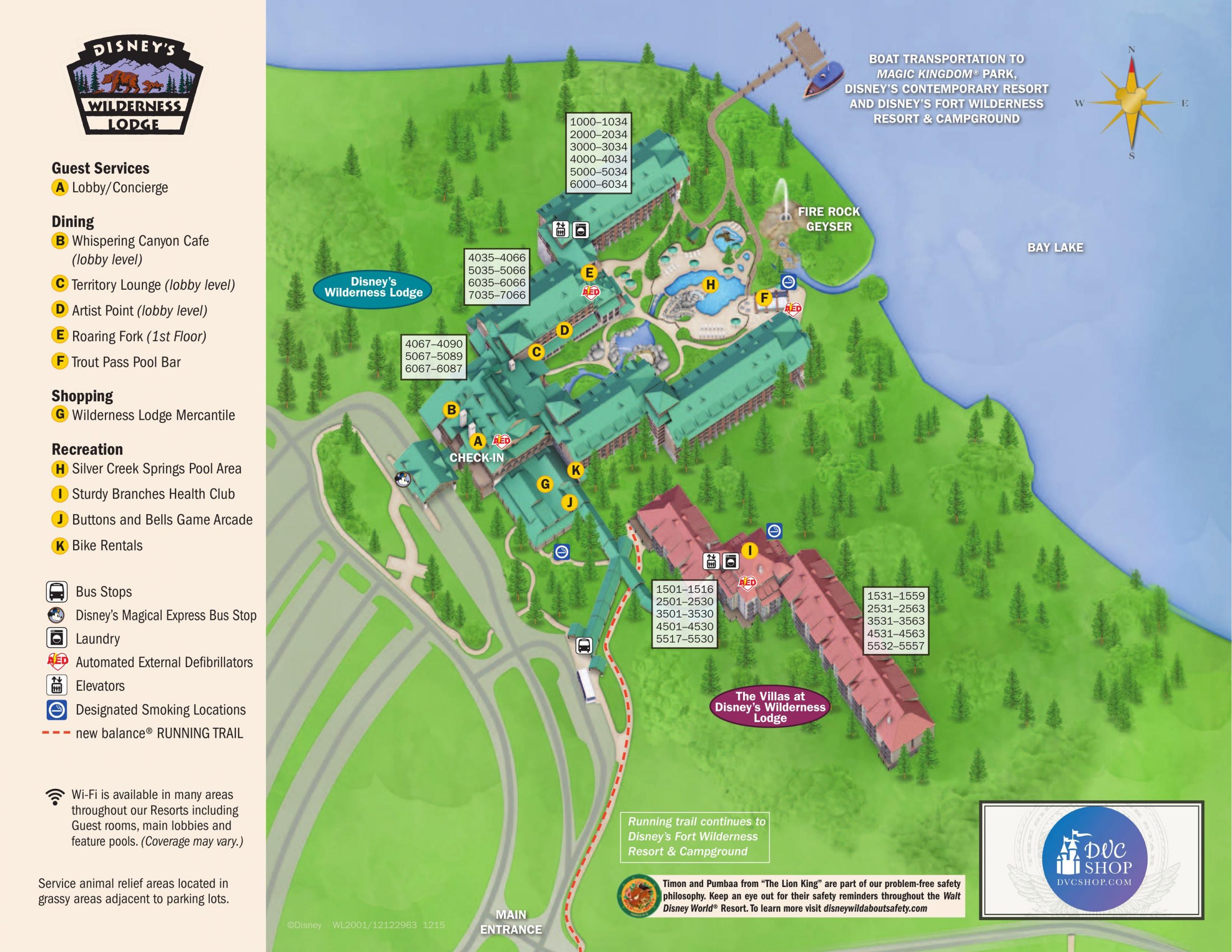 Click here to download map.