Resale Listings
Photo Gallery
Resort Information
Resort Overview
Resort Map
Floor Plans
Point Charts
STATUS
Available
New
Reduced
Pending/Sold
| Resorts | Pts | Available Points | Use Year | Price / Point | Price | Status | See Details |
| --- | --- | --- | --- | --- | --- | --- | --- |
| Aulani Hawaii | 50 | 50 for 2024 and beyond. Can close 11/23/23 | Mar | --- | $6,650 | Sale Pending | |
| Aulani Hawaii | 50 | 50 for 2024 and beyond. | Aug | 133 | $6,650 | Available | |
| Aulani Hawaii | 69 | 26 points for 2024, 69 for 2025 and beyond. Can close 4/26/24. | Jun | 108 | $7,452 | New | |
| Aulani Hawaii | 75 | 75 points for 2025 and beyond. Can close 5/3/24. Low but firm, priced to sell. | Feb | --- | $7,725 | Sale Pending | |
| Aulani Hawaii | 75 | 32 points for 2023, 75 for 2024 and beyond. Can close 6/1/24. | Dec | 109 | $8,175 | Available | |
| Aulani Hawaii | 80 | 80 for 2024 and beyond. Can close 5/24/24. | Dec | 106 | $8,480 | New | |
| Aulani Hawaii | 100 | 100 for 2025 and beyond. Can close 7/1/24. | Jun | 105 | $10,500 | New | |
| Aulani Hawaii | 100 | 100 for 2025 and beyond. Can close 5/29/24. | Jun | 104 | $10,400 | New | |
| Aulani Hawaii | 100 | 100 points for 2025 and beyond. Can close 2/9/24 | Jun | 109 | $10,900 | Available | |
| Aulani Hawaii | 100 | 100 points for 2024 and beyond. | Oct | 109 | $10,900 | Available | |
| Aulani Hawaii | 100 | 96 points for 2024, 100 points for 2025 and beyond. Can close 2/8/24 | Jun | --- | $10,500 | Sale Pending | |
| Aulani Hawaii | 100 | 100 points for 2024 and beyond. Can close 1/20/24 | Dec | 106 | $10,600 | Available | |
| Aulani Hawaii | 100 | 100 points for 2024 and beyond. Can close 11/23/23 | Dec | 105 | $10,500 | Available | |
| Aulani Hawaii | 100 | 100 points for 2023 and beyond | Apr | --- | $10,700 | Sale Pending | |
| Aulani Hawaii | 100 | 100 points for 2024 and beyond. Can close 12/18/23 | Aug | 109 | $10,900 | Available | |
| Aulani Hawaii | 100 | 100 points for 2024 and beyond. | Feb | --- | $9,900 | Sale Pending | |
| Aulani Hawaii | 100 | 100 points for 2025 and beyond. Can close 7/1/24. Low, But final. Priced to sell. | Jun | 105 | $10,500 | Low But Firm | |
| Aulani Hawaii | 100 | 100 for 2024 and beyond. Can close 10/27/23 | Aug | 107 | $10,700 | Available | |
| Aulani Hawaii | 110 | 110 points for 2024 and beyond. | Jun | --- | $11,990 | Sale Pending | |
| Aulani Hawaii | 110 | 110 points for 2025 and beyond. Can close 6/11/24 | Mar | --- | $11,550 | Sale Pending | |
| Aulani Hawaii | 110 | 110 points for 2024 and beyond. Can close 12/18/23 | Aug | 109 | $11,990 | Available | |
| Aulani Hawaii | 115 | 115 for 2025 and beyond. Can close 3/8/24. | Mar | 100 | $11,500 | New | |
| Aulani Hawaii | 115 | 115 points for 2024 and beyond. Can close 2/11/24 | Sep | --- | $12,420 | Sale Pending | |
| Aulani Hawaii | 115 | 97 points for 2024, 115 points for 2025 and beyond. Can close 12/21/24 | Apr | --- | $12,075 | Sale Pending | |
| Aulani Hawaii | 138 | 138 points for 2023 and beyond. No dues for 2023 (FREE POINTS) Can close 1/31/24 | Dec | --- | $15,042 | Sale Pending | |
| Aulani Hawaii | 150 | 56 points for 2024, 150 for 2025 and beyond. Can close 5/13/24. Low but firm, priced to sell. | Aug | 103 | $15,450 | Low But Firm | |
| Aulani Hawaii | 150 | 150 points for 2024 and beyond. Can close 2/14/24 | Dec | 103 | $15,450 | Available | |
| Aulani Hawaii | 150 | 150 points for 2024 and beyond. Can close 1/28/24 | Aug | --- | $16,650 | Sale Pending | |
| Aulani Hawaii | 160 | 33 points for 2024, 160 for 2025 and beyond. | Jun | --- | $16,320 | Sale Pending | |
| Aulani Hawaii | 160 | 160 for 2025 and beyond. Can close 4/18/24. | Jun | 101 | $16,160 | New | |
| Aulani Hawaii | 160 | 160 for 2024 and beyond. Can close 1/20/24 Owner/Broker | Oct | 104 | $16,640 | Low But Firm | |
| Aulani Hawaii | 160 | 140 for 2024 and 160 for 2025 and beyond. Can close 1/20/24 Owner/Broker | Oct | 102 | $16,320 | Low But Firm | |
| Aulani Hawaii | 160 | 55 for 2023 , 160 for 2024 and beyond. | Jun | --- | $17,280 | Sale Pending | |
| Aulani Hawaii | 160 | 12 for 2024, 160 for 2025 and beyond. | Jun | 99 | $15,840 | Available | |
| Aulani Hawaii | 160 | SUBSIDIZED DUES 320 for 2024 (160 are banked) and 160 for 2025 and beyond. #SUBSIDIZED | Mar | 145 | $23,200 | Available | |
| Aulani Hawaii | 170 | 170 for 2025 and beyond. Can close 5/26/24. | Jun | 101 | $17,170 | New | |
| Aulani Hawaii | 170 | 170 for 2025 and beyond. Can close 5/11/24 Owner/Broker | Apr | 103 | $17,510 | Low But Firm | |
| Aulani Hawaii | 170 | 22 points banked from 2022, 170 points for 2023 and beyond | Dec | 120 | $20,400 | Available | |
| Aulani Hawaii | 180 | 6 points for 2023, 180 points for 2024 and beyond. | Sep | 109 | $19,620 | Available | |
| Aulani Hawaii | 190 | 36 points banked from 2022, 190 points for 2023 and beyond | Oct | 110 | $20,900 | Available | |
| Aulani Hawaii | 200 | 50 points for 2023, 200 for 2024 and beyond. Can close 4/19/24. | Dec | 109 | $21,800 | New | |
| Aulani Hawaii | 200 | SUBSIDIZED DUES 200 for 2024 and beyond. #SUBSIDIZED | Mar | 137 | $27,400 | Available | |
| Aulani Hawaii | 200 | 84 points for 2024, 200 for 2025 and beyond. Can close 6/21/24. | Jun | 102 | $20,400 | New | |
| Aulani Hawaii | 200 | 200 for 2024 and beyond. Can close 12/23/23 | Aug | --- | $19,800 | Sale Pending | |
| Aulani Hawaii | 200 | 200 for 2024 and beyond. Can close 10/27/23 | Aug | --- | $21,000 | Sale Pending | |
| Aulani Hawaii | 200 | 200 for 2024 and beyond. Can close 10/27/23 | Aug | --- | $19,400 | Sale Pending | |
| Aulani Hawaii | 210 | 210 points for 2024 and beyond. Can close 1/24/24 | Dec | --- | $22,050 | Sale Pending | |
| Aulani Hawaii | 220 | 77 points for 2024, 220 points for 2025 and beyond. Can close 12/26/23 | Jun | --- | $23,100 | Sale Pending | |
| Aulani Hawaii | 220 | 220 for 2025 and beyond. Can close 3/28/24 Owner/Broker | Aug | 97 | $21,340 | Low But Firm | |
| Aulani Hawaii | 220 | 220 for 2024 and beyond. Can close 12/15/23 | Aug | 105 | $23,100 | Available | |
| Aulani Hawaii | 230 | 112 points for 2024, 230 for 2025 and beyond. Can close 6/2/24. | Sep | 94 | $21,620 | Low But Firm | |
| Aulani Hawaii | 250 | 228 points for 2024, 250 for 2025 and beyond. Can close 12/26/23 | Dec | --- | $26,750 | Sale Pending | |
| Aulani Hawaii | 300 | 300 points banked for 2022, 300 points for 2023 and beyond CAN CLOSE 8/8/23 | Aug | --- | $33,600 | Sale Pending | |
| Aulani Hawaii | 300 | 300 points banked from 2022, 300 points available for 2023 and beyond, Low But Firm | Dec | 113 | $33,900 | New | |
| Aulani Hawaii | 300 | SUBSIDIZED DUES 300 for 2024 and beyond. #SUBSIDIZED | Mar | 137 | $41,100 | Available | |
| Aulani Hawaii | 300 | 300 for 2025 and beyond. Can close 2/11/24 | Aug | --- | $26,700 | Sale Pending | |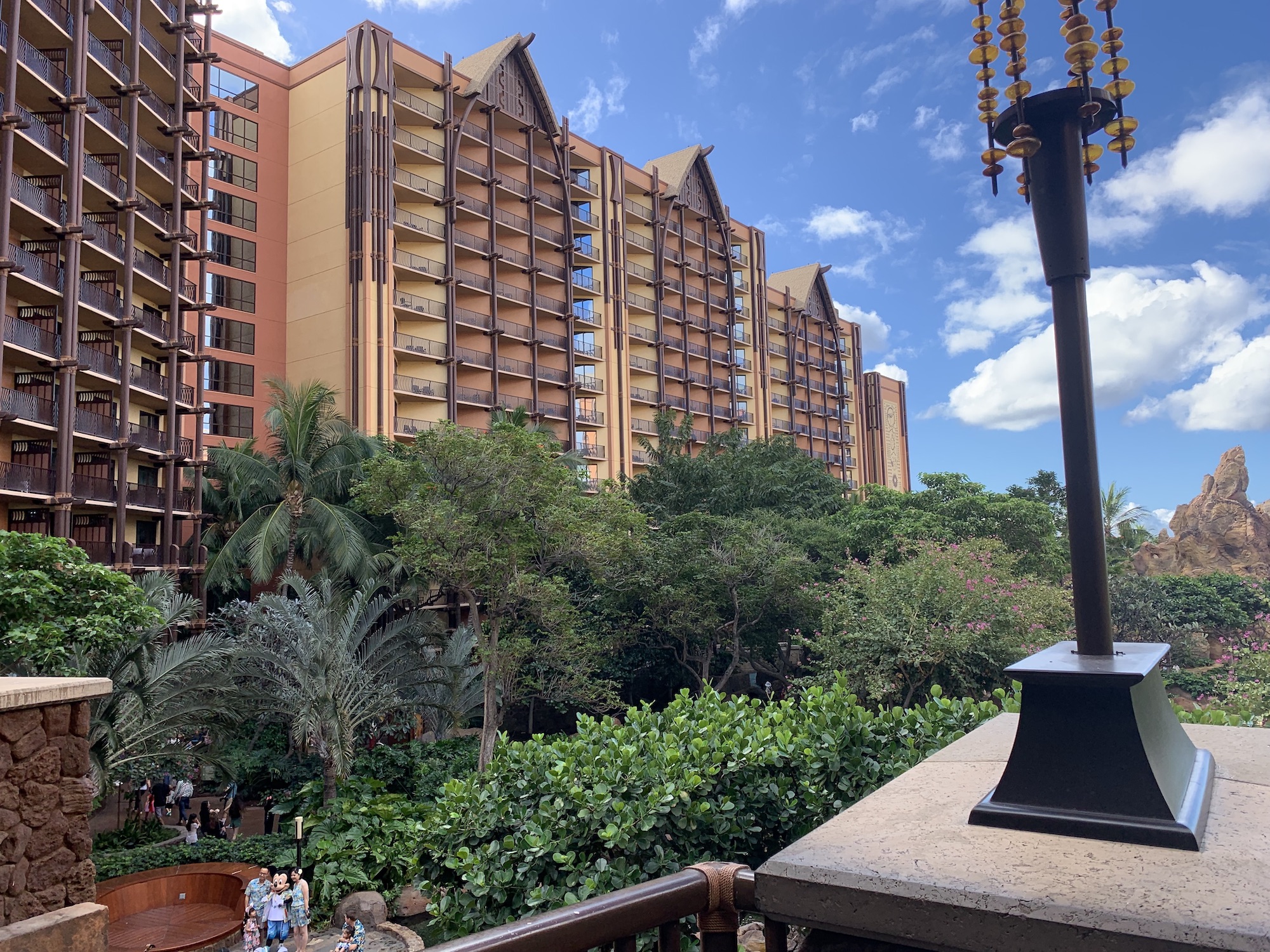 Maintenance Cost
$9.76 per point
Public Offering Statement
5 Star Resort
92-1185 Aliinui Drive Kapolei, Hawaii
A trip to Hawaii is a dream for many. But a vacation at Disney's Aulani, a resort that combines resort luxury, impeccable Disney service and gorgeous Hawaiian vistas makes the ultimate, unforgettable getaway. Opened in 2011 as Disney Vacation Club's third stand-alone resort, this beachside resort is the perfect place for a romantic or family vacation. 
Designed around Hawaiian culture, traditions and customs, a visit to Aulani is nothing short of an immersive experience. From the architectural design, to the art and music, to the employees who speak Hawaiian, guests at Aulani are sure to learn and love the spirit of Hawaii. Hawaiian cultural experts and local elders were included in the design process to ensure that guests would not only feel the Disney spirit but feel the true Hawaii upon stepping foot inside.
Winner of many tourism awards and accolades, Aulani is a true luxury experience with a sprinkle of Disney. Yes, there are still character meet and greets, Disney shaped food, and character dining experiences, but at Aulani there is so much more.
This massive 21-acre resort features bountiful amenities and activities for the whole family.  A total of 460 DVC villas overlook the breathtaking Ko Olina lagoon where guests can take in gorgeous nightly sunsets. If the beach is not what you're looking for, jump in the lazy river, cool grotto or saltwater snorkeling lagoon on your perfect getaway.
Accommodations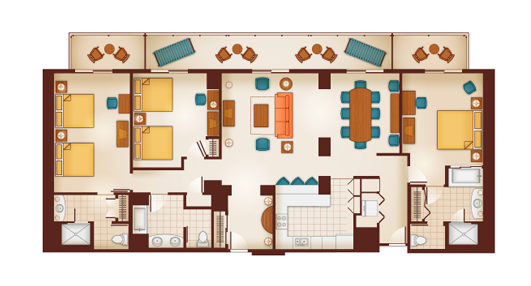 Room Types
Hotel Room
Deluxe Studio
One-Bedroom Villa
Two-Bedroom Villa
Two-Bedroom Lock-off Villa
Three-Bedroom Villa
Available Views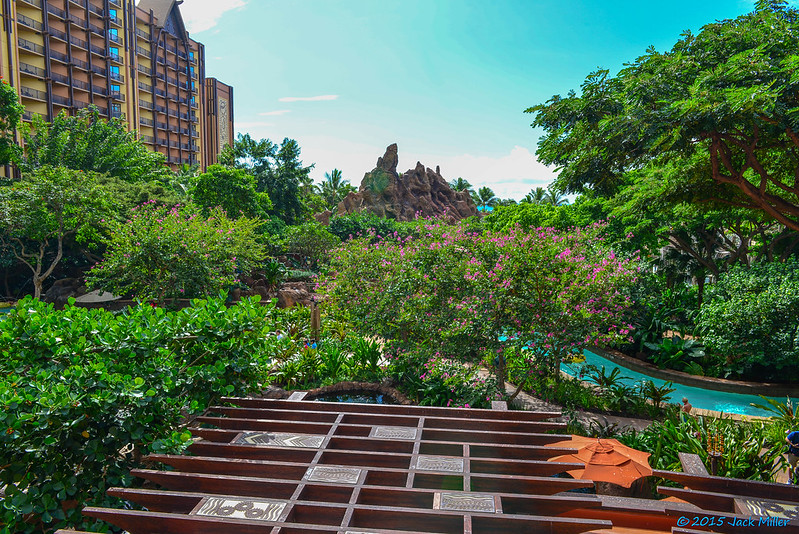 The majority of units at Disney's Aulani have the option of Standard, Island Gardens, Poolside Gardens or Ocean views. The exceptions are the Hotel Rooms which only have a Standard View option and the 3-Bedroom Villas that come with either Standard or Ocean Views.
View Descriptions
Standard View
View of the conference center, parking lot or parking garage from the room or balcony
Island Gardens View
Minimum of a partial view of the mountains, spa or landscaping from the room or balcony 
Poolside Gardens View
Minimum of a partial view of the pool, courtyards, water features, or landscaping from the room or balcony 
Ocean View
Minimum of a partial view of the ocean from the room or balcony 
Resort Dining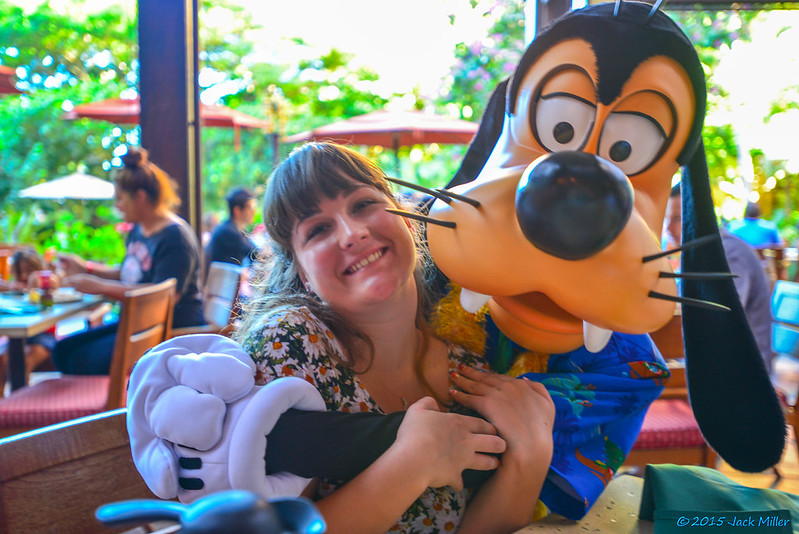 Being a massive resort, Disney's Aulani has a wide range of dining options. While some can be quite pricey, there are also several casual dining options perfect for the whole family.
ʻAMAʻAMA – Contemporary Island Cooking
The resort's one fine dining location, 'Ama 'Ama offers a delectable selection of Hawaiian classic entrees for breakfast, lunch and dinner in an open-air dining setting.
Makahiki – The Bounty of the Islands
A grand buffet of Hawaiian favorites is served daily at Makahiki. This is the one dining location that also offers a Character Breakfast with your favorite Disney characters decked out in their best Hawaiian leisure wear.
A great place to stop in for a quick meal while hanging by the pool. Mama's offers snacks and meals like fish and chips, chicken tenders, and sandwiches.
A favorite at Aulani, Ulu is a must visit quick-service dining location that is open for breakfast, lunch and dinner. With grab and go items like salads and sandwiches available throughout the day as well as hot items like eggs and poke bowls. Everyone in your party will find something delicious at Ulu's that won't break the bank.
Little 'Opihi's serves meals and cocktails beachside throughout the day. No need to lift a finger. Just lay back in your lounge chair and order up salads, sandwiches, snacks and drinks while you enjoy the warm sand and ocean breeze.
Yes, of course there's Mickey-shaped shaved ice! Located adjacent to Mama's Snack Stop by the main pool, kids, and kids at heart, can go wild with all the fun combinations of flavors available.
Located just across from Mama's Snack Stop, the Lava Shack is a sundries store that also stocks drinks, chips and has refillable mugs. 
Overlooking the koi pond, unwind after a long day in the sun at this swanky lounge. 
Off the Hook is technically a lounge but this dining location also serves burgers, sandwiches and appetizers during the day. Stop by if you're at the pool for a hearty meal or swing by in the evening for your favorite cocktail.
If you're 18 or older and enjoying a peaceful day at the adult only Wailana Pool, grab a meal and a frosty drink at the Pool Bar. Pizza, burgers, wraps and more are served throughout the day.
Amenities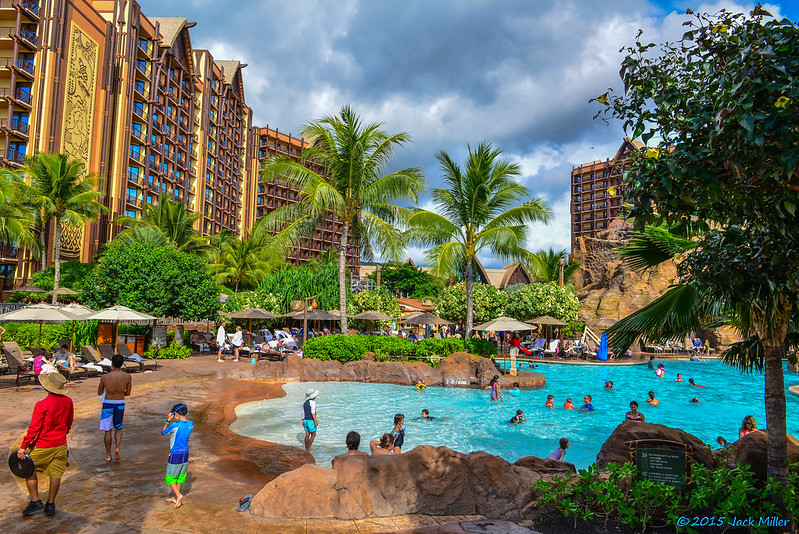 DVC Resorts tend to offer many amenities to their guests and Disney's Aulani is no different. Of all the DVC Resorts, Aulani may actually offer the largest number of activities and amenities. While the beach and lazy river may be the first items to come to mind, Aunty's Beach House is the real star of the show at Aulani.
Aunty's Beach House
What is Aunty's Beach House? It is a free (well, included in the price of your stay), all-day kid's club on property! Those with children know how pricey childcare can be so the fact that Aunty's is included in your stay is a huge benefit to parents. 
Pools
Pools, pools and more pools. There is no shortage of amazing pool options at Aulani.
Waikolohe Pool
The Waikolohe Pool and Stream would be considered the main pool area at Aulani. They include a zero entry pool with a slide, a lazy river and rapids.
Wailana Pool
For guests over 18 years old, Wailana Pool is the place to hang out and relax if a relaxing retreat is what you're looking for.
Ka Maka Grotto
This cave like pool located near the beach is great for a relaxing day or evening under the twinkling lights inside.
Keiki Cove Splash Pool
One of two interactive kids play areas. 
Menehune Bridge
The second play area for kids, the Menehune Bridge has slide and a play structure.
Rainbow Reef
Explore underwater sea life in this saltwater snorkeling lagoon where you can swim with fish. (fees apply)
Beach

Of course you can't come to Hawaii and not enjoy the beach. Thankfully, Aulani is perfectly situated along a calm lagoon where guests can enjoy full days on the sand admiring the natural beauty of Hawaii or enjoying water activities.
Pau Hana Room

Aulani's version of the DVC Community Hall, Pau Hana is where to go to play games, rent movies and participate in other activities.
Hawaiian Entertainment
Don't leave Hawaii without catching a Luau! A variety of traditional Hawaiian entertainment shows are available for the whole family.
Excursions
If you're hoping to venture off property to see more of the beautiful island of Oahu, sign up for an excursion. These group or family tours are special and unique adventures where you'll see and learn more about Hawaii.
LaniWai Spa
This 18,000 square foot mega-spa will wipe away any of your stresses. With its unique hydrotherapy garden, steam rooms, and spa services, you are bound to leave more relaxed than when you arrived.
See the full list of Aulani's amenities here.
Pros
Free childcare provided to all guests at the resort.

Located along the gorgeous Ko Olina lagoon on Oahu.

One of a kind resort experiences like the onsite lazy river and enormous spa. 

Many dining options.

A variety of Character experiences throughout the resort.
Cons
Points per night, rates and food can be a bit pricey.

May not be as laid-back as a non-Disney Hawaiian vacation.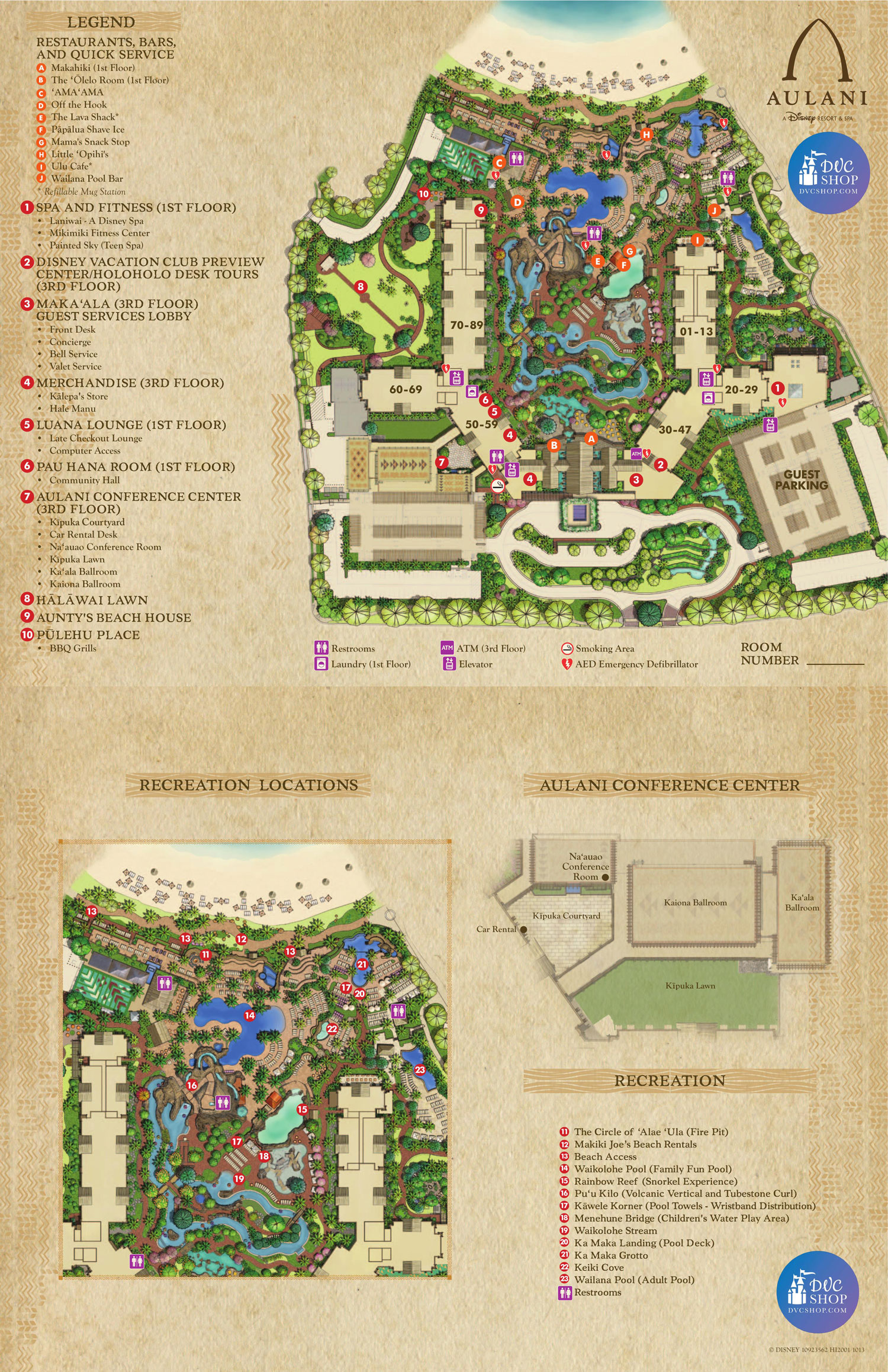 Click here to download map.