Resale Listings
Photo Gallery
Resort Information
Resort Overview
Resort Map
Floor Plans
Point Charts
STATUS
Available
New
Reduced
Pending/Sold
| Resorts | Pts | Available Points | Use Year | Price / Point | Price | Status | See Details |
| --- | --- | --- | --- | --- | --- | --- | --- |
| Bay Lake Tower | 50 | 50 points for 2023 and beyond | Jun | --- | $8,950 | Sale Pending | |
| Bay Lake Tower | 160 | 140 points for 2024, 160 points for 2025 and beyond | Feb | 134 | $21,440 | New | |
| Bay Lake Tower | 160 | 138 points for 2024, 160 points for 2025 and beyond, Low But Firm | Feb | --- | $20,000 | Sale Pending | |
| Bay Lake Tower | 160 | 69 points for 2023 and 160 for 2024 and beyond | Feb | 163 | $26,080 | Available | |
| Bay Lake Tower | 160 | 93 points for 2023 and 160 for 2024 and beyond, | Aug | 163 | $26,080 | Available | |
| Bay Lake Tower | 160 | 11 points for 2024, 160 points for 2025 and beyond, Low But Firm | Feb | --- | $20,640 | Sale Pending | |
| Bay Lake Tower | 160 | 160 for 2025 and beyond. Can close 3/2/24 | Feb | 134 | $21,440 | Low But Firm | |
| Bay Lake Tower | 160 | 76 points for 2024. 160 for 2025 and beyond. Can close 11/19/24 | Feb | 135 | $21,600 | Low But Firm | |
| Bay Lake Tower | 200 | 400 points for 2024 (200 are banked from 2023). 200 for 2025 and beyond. | Feb | --- | $32,800 | Sale Pending | |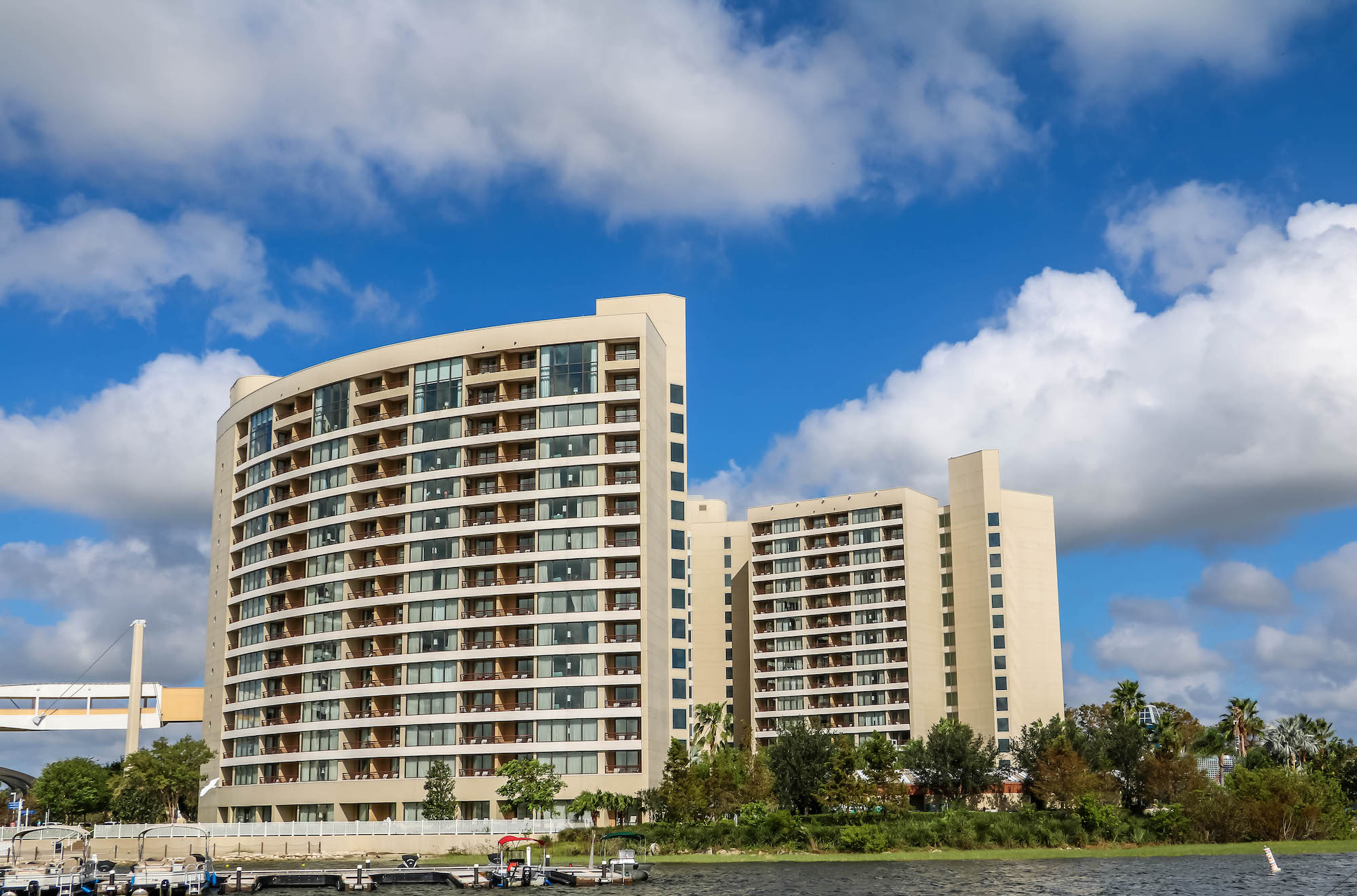 Maintenance Cost
$7.59 per point
Public Offering Statement
5 Star Resort
4600 N World Dr. Lake Buena Vista, Florida
Opened in 2009 as an addition to Disney's Contemporary Resort, Bay Lake Tower is one of the best located resorts on Disney property. Just a hop, skip and a jump from Magic Kingdom, this is the place to stay if you're planning to visit the Magic Kingdom on your next trip to Disney World.Built to match the Contemporary's modern aesthetic, Bay Lake Tower is a sleek, modern and luxurious addition to the DVC family. The single C-shaped tower, which sits on the beautiful Bay Lake, offers guests a variety of fun activities, beautiful views of the lake and Magic Kingdom and access to the Contemporary Resort and all it has it offer.
Bay Lake Tower is also home to the Top of the World lounge. Unlike any other lounge at Disney, Top of the World is a bar with a massive outdoor balcony where guests can view Magic Kingdom's nightly fireworks show. All DVC members with a membership card staying at a DVC Resort are welcome to visit Top of the World. DVC members may also bring the number of guests on their room reservation with them to the lounge. See the following link for more information on Top of the World access and eligibility.
Accommodations
The 16-story building has a total of 295 rooms, ranging from Studios to 3-Bedroom Grand Villas. All rooms were refurbished in 2016 and included new carpeting, upholstery, paint and some furniture replacement.
Available Rooms
Deluxe Studios
1-Bedroom Villas
2-Bedroom Villas
3-Bedroom Grand Villas
These massive, two-story villas offer accommodations for up to 12 people, have four bathrooms and multiple balconies.
Available Views
Theme Park View
Views of the Magic Kingdom, a great way to experience the fireworks each night
Bay Lake View
Views of the beautiful Bay Lake and the gorgeous interior courtyard with the resort's pool.
Standard View
Views of the parking area or obstructed views of Magic Kingdom or the lake
Resort Dining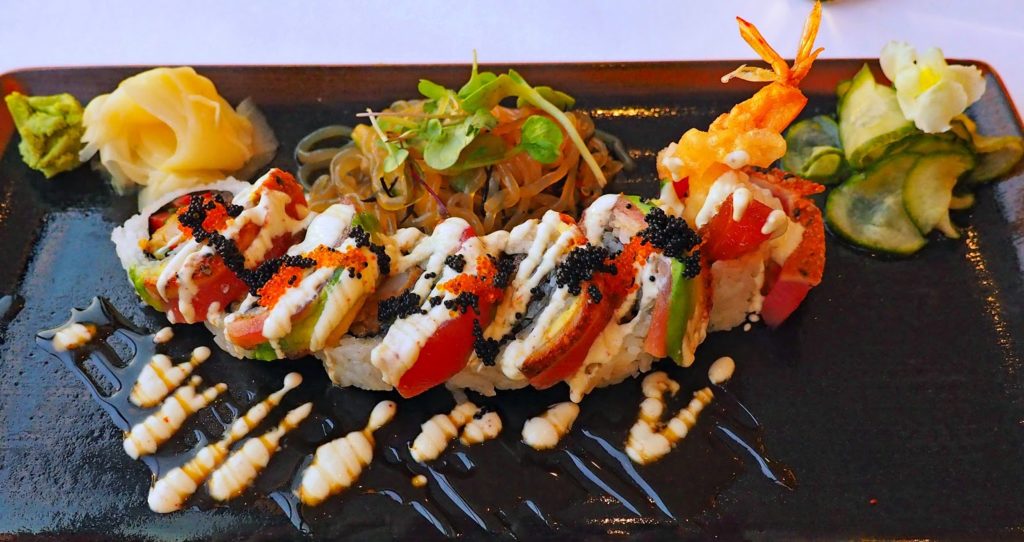 While the Bay Lake Tower offers just a few dining options, just across the elevated walkway at the Contemporary Resort, guests will find a larger selection of casual to fine dining options.
Located at the Bay Lake Tower pool, this bar offers drinks and snacks to keep you nourished during your pool time. The menu here is fairly standard with hot dogs, wraps and snacks served all day.
Along with a long list of wine, beer and cocktails served each evening, Top of the World offers tasty bar snacks as well like Pretzel Bread with Cheese Sauce.
One of Disney World's most famous fine dining restaurants, California Grill offers fresh California style cuisine for brunch and dinner with magnificent views of the Magic Kingdom.
Enjoy a meal with Mickey and his friends in this all-day buffet.
This casual restaurant and lounge offers all-day dining with locally and regionally sourced food. Guests have a choice of a la carte or buffet breakfast. All other meals are served a la carte.
Located in the Grand Canyon Concourse, this quick-service establishment is perfect for a quick meal any time of day.
Convenient coffee and pastry stand for a quick meal before heading to the parks.
Located at the Contemporary Resort's swimming pool, grab a quick snack or tropical drink and enjoy your time in the sun.
A great option to grab a relaxing cocktail with views over the beautiful Bay Lake.
Amenties
Bay Lake Tower offers a wide range of recreation activities for the whole family. Additionally, guests may use all amenities at the Contemporary Resort, adding even more fun to your BLT vacation.
Pools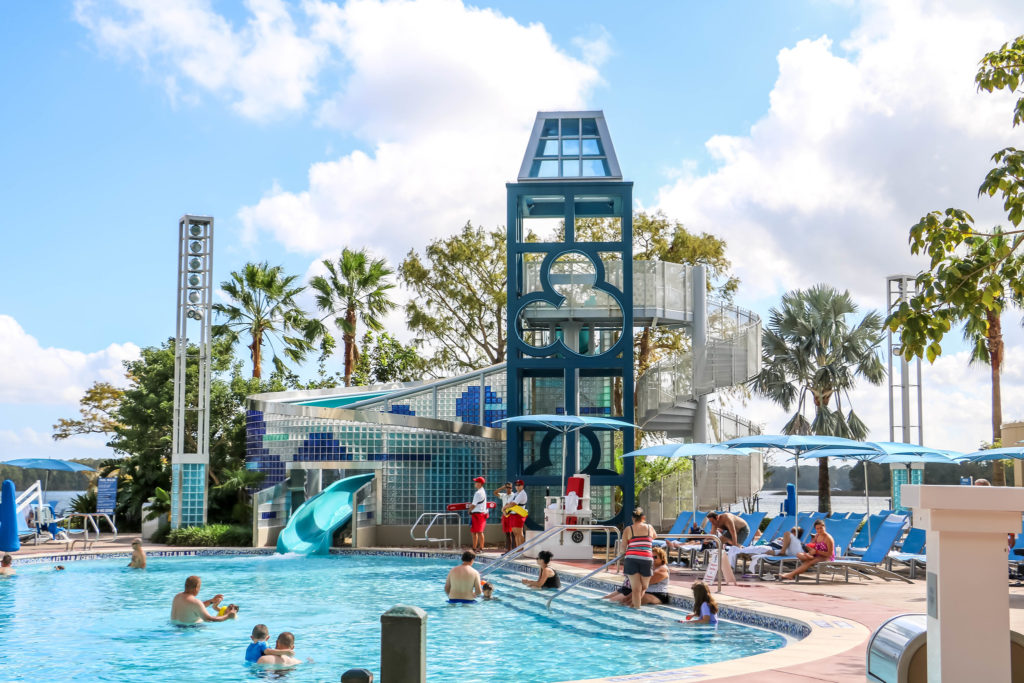 Bay Lake Tower's zero entry pool with its 148-foot long waterslide is a great way to relax in the afternoon sun. This area also has a kiddie slide and a kid's splash zone.
The Contemporary's pool is also available to BLT guests and boasts its own 17-foot high waterslide, whirlpools, cabana rentals and more.
Lake Activities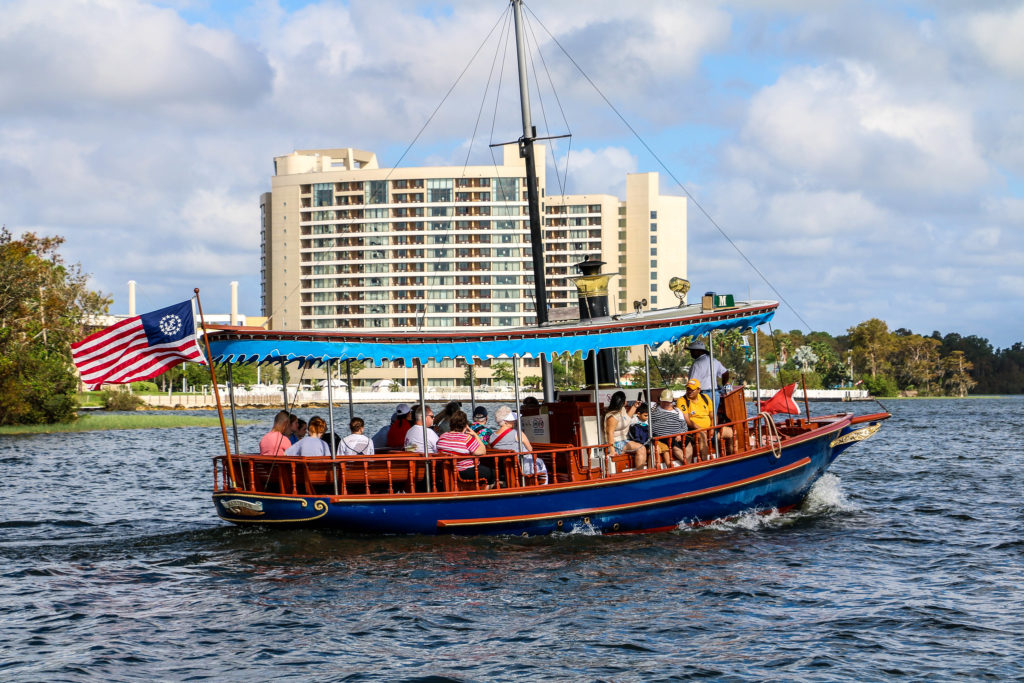 Being situated lakeside means that are plenty of activities guests can enjoy on the lake, from boat rentals to guided fishing excursions.
Other Bay Lake Tower Amenities Include:
The Game Station
Basketball
Lakeside Yoga
Cabana Rentals
Volleyball
Tennis
Jogging Trails
Contemporary Resort Campfire
Movies Under the Stars
Community Hall
Pros
Arguably the best location of any DVC Resort, within just a short walk to the Magic Kingdom
Monorail service to Magic Kingdom, Epcot, Polynesian and Grand Floridian
Studio units have a kitchenette alcove as opposed to kitchens that are part of the main living area
Very comfortable sofa beds
Amazing views of Bay Lake and Magic Kingdom
Cons
Theming is more urban-modern than a vacation resort like other DVC Resort locations
Small TVs in Studios and bedrooms
Many amenities are located at the Contemporary Resort, which is a short walk away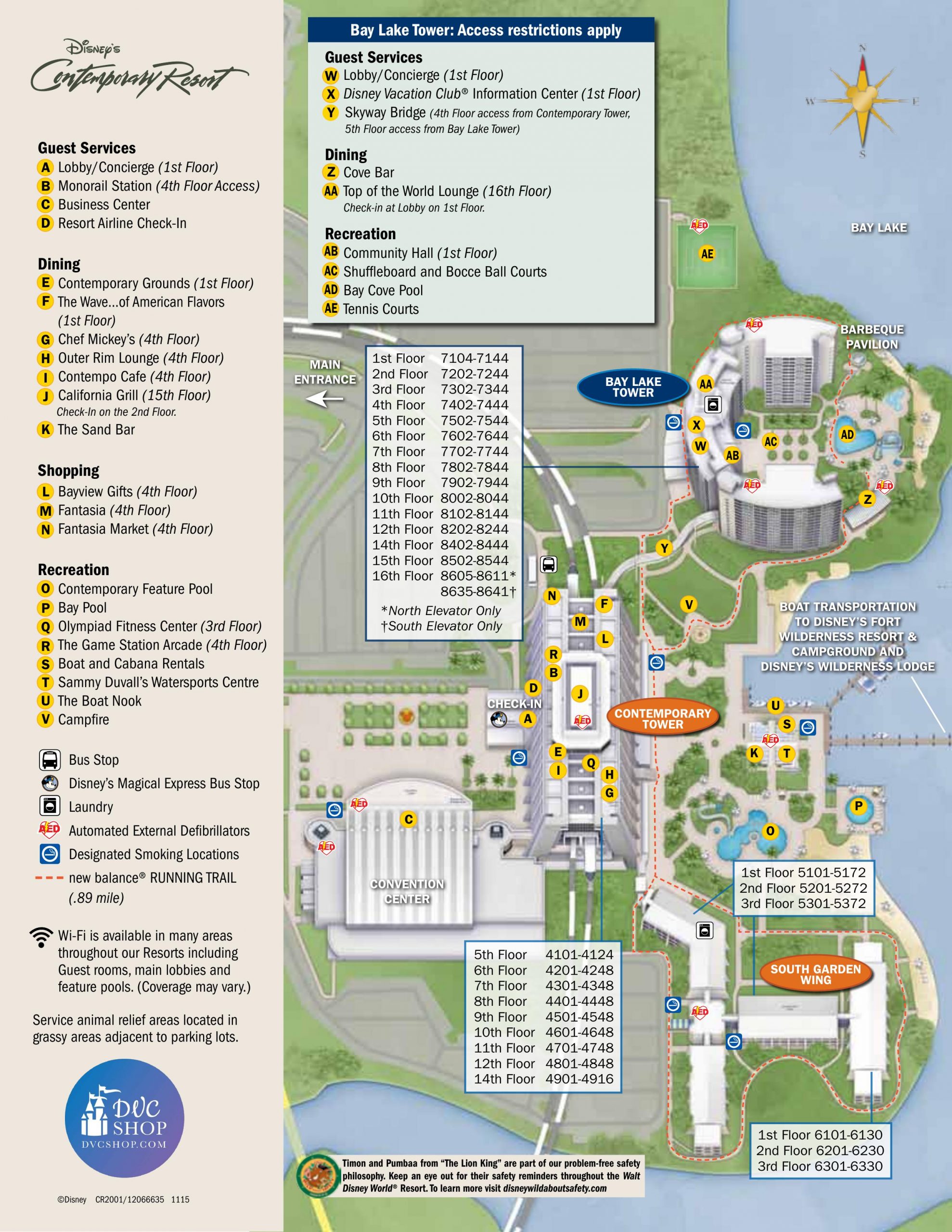 Click here to download map.